The summer is here, and it's a scorcher. There's nothing you will want to do more than jump in the pool and stay there, lounging around in the cool water. But when it's time to get out and dry off, do you have a suitable pool deck area that is enjoyable to spend time in? Most people put all their attention on the pool itself and ignore the surroundings, not taking full advantage of the space available to them.
We decided to put together our favourite unique pool deck ideas to inspire you, so that you can fully enjoy your outdoor pool space when the weather starts to heat up. Take a look at our definitive list below.
1. Keep it natural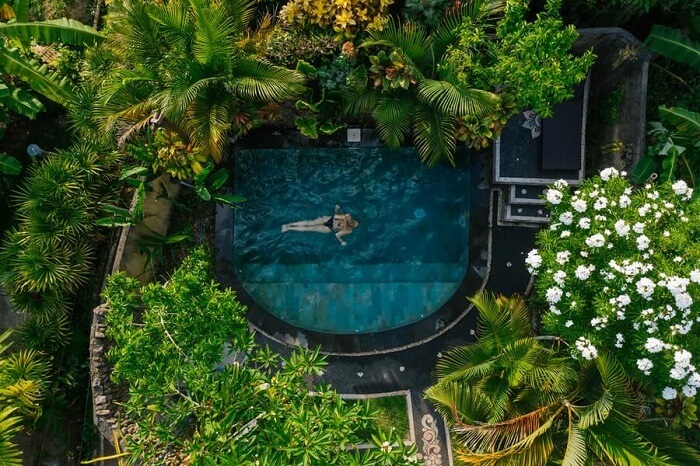 With an emphasis on sustainability being the new norm, choosing natural décor for your pool area should be on your radar. Planting flowers, trees, and sticking to natural materials is one way you can help the environment, whilst still having a cool looking and unique pool to enjoy yourself in. If you do opt for trees, make sure you put a pool cover in place when you aren't using it to catch any loose leaves. This will save you a lot of time when Autumn hits and they shed their foliage.
Still stuck planning the pool of your dreams? Why not consider installing a natural swimming pool for extra environmental brownie points? Traditional pools can have a negative impact, but natural pools lean on plants to act as a filtration system.
2. Nautical theming
Pools + nautical theming = a match made in heaven. With the addition of some vintage life-rings as décor, and lots of blue and white, you can relax poolside whilst living a seafarers dream in your mind. Add an extra sea-themed touch with striped weatherproof cushions for your seating area and try to hunt down a second-hand wooden ships wheel to repurpose as a decorative feature.
3. Night-time paradise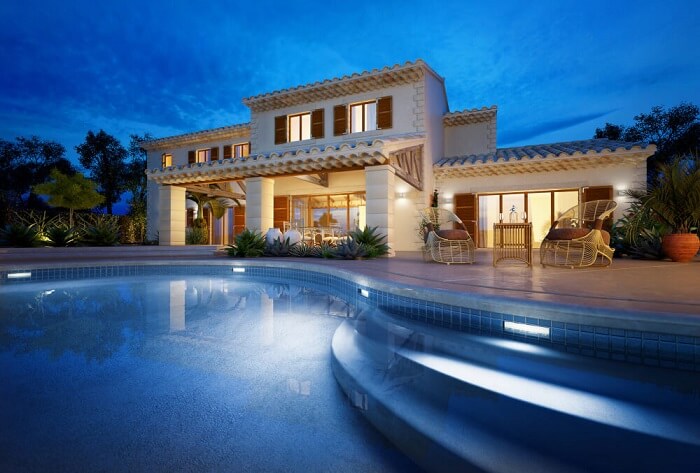 As the summer heats up, there is no better place to be hanging out than by your pool. Taking a dip in the evening is a refreshing way to end your day, but you shouldn't suffer in the dark. Transform your pool area into a nighttime paradise by installing effective pool lights, lighting around your pool deck, and including a multi-use seating area for your friends and family to kick back around when they're over for a summer soiree.
Make sure that you have blankets and beanbags to hand so your guests can get extra cosy. You might even consider investing in a fire pit to keep the nighttime chill off as the sun sets, or to roast marshmallows on when the weather is a little cooler.
4. Gorgeous gazebo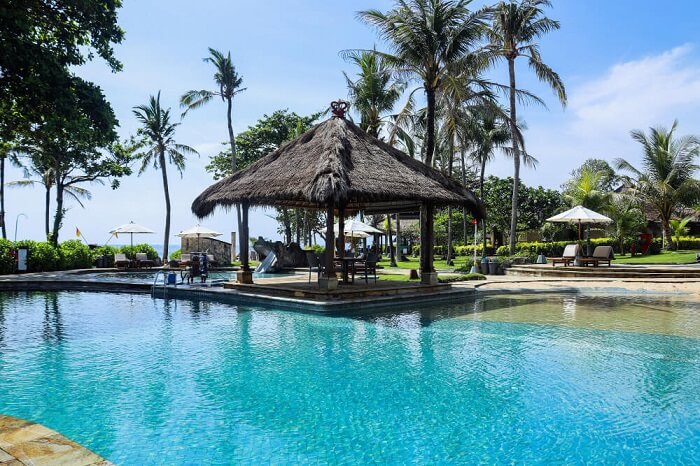 Gazebos aren't the plastic, green, three-sided shelters they use to be. Modern permanent gazebos offer shelter and style in one convenient hit, and they make the perfect addition to any poolside. You can place them over a seating or bar area to add an element of staging to your garden, and to offer some much-needed shade that you'll be thankful for in the heat of the summer.
Keep it open or add some perfectly placed pergolas, planted up with stunning climbing plants that will add some colour and gorgeous scenting to your pool area. Siding is vital for windy areas as they will provide more protection.
5. Tropical oasis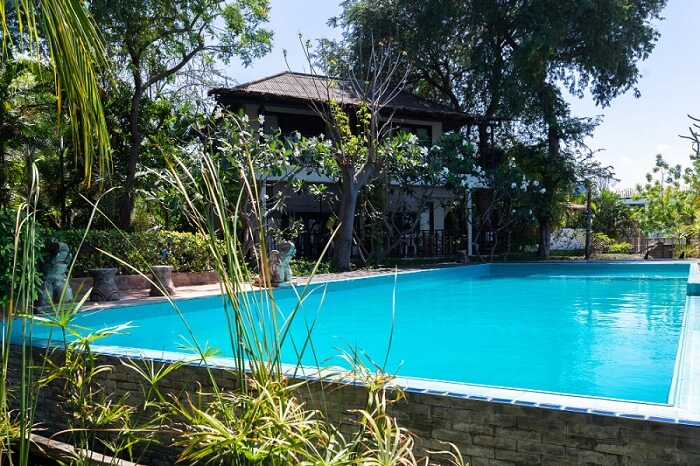 Sure, we all love a tropical holiday, but we can't all stay in the Maldives all year long. Add an element of tropical delight to your pool deck by planting a variety of palm trees and other large-leafed plants. Other great options for tropical foliage include banana trees, Hawaiian Hibiscus, zebra grass, and the much-loved Pampas grass. Choose deck chairs and garden furniture sets made with chunky, natural materials (preferably wood or rattan) to complete the tropical aesthetics.
6. Modern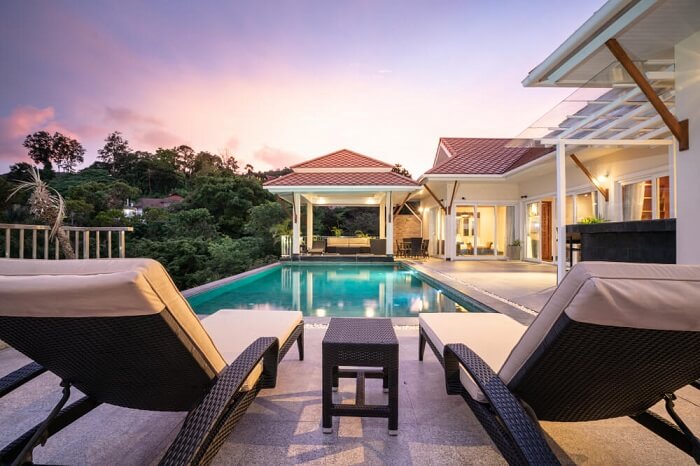 Modern poolside decks are the only choice for a modern family. Strip away all the tacky deck décor of old and stick to the basics. A monochromatic or contrasting colour scheme will make a punchy impact, whilst solar panel flood and floor lights provide a highlighting feature, illuminating your design.
Choose rattan or easy to clean heavy, metal furniture to give your area a stylish aesthetic. We also like to see the use of technology around a modern poolside. Think motion-activated lights, integrated speakers, and colour changing pools. There are no limits to how you can use voice-assisted tech outside, either. Make custom settings to suit different situations. Low lights and relaxing music are perfect for a chilled couples evening, whereas changing colours and lively tunes are the ideal setting for a birthday bash.
7. Add a splash of colour
Colour is often overlooked when it comes to pools. People generally go for the classics – blue and white tiling for the pool surround, and white, black, or grey for furnishings. But if you find yourself craving a colourful atmosphere, you shouldn't hold back.
Be careful not to choose anything that clashes too harshly but consider adding accessories that stand out. Fuchsia beanbags or chair cushions, and sunny yellows scream 'summertime', and add a much needed lift to any outdoor space. You could also get creative with painted plant pots, or put up weatherproof bunting.
Why not check out our mosaic bistro sets for some subtle colour.
8. Al-fresco dining area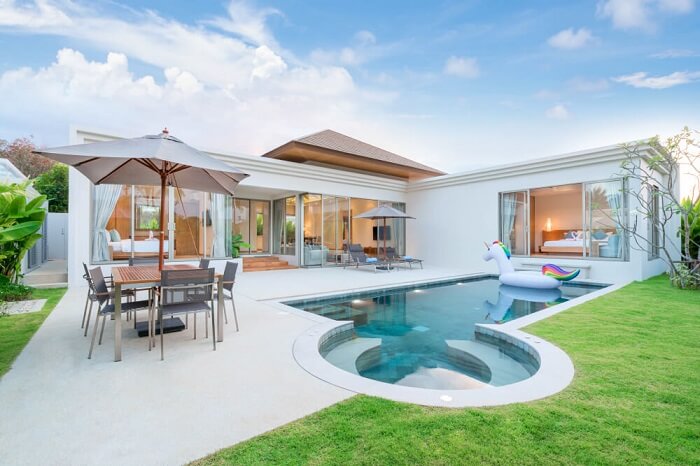 There is nothing better than sitting outside in the blazing summer heat with food, drinks, and friends. Introducing an al-fresco dining area to your poolside it the perfect way to make the most of this usually under-utilised space, transforming it into an extension of your home dining room or kitchen area.
A six-seater table with a shade laden parasol should do the job, but you could level up this design by including an outdoor kitchen area. Chat and entertain your guests whilst you whip up a feast on your barbecue and mix up some refreshing cocktails for everyone to enjoy.
Remember that safety is a priority
Whichever design you choose, you should always keep safety at the absolute top of your priority list. In many countries it is a legal obligation to put a fence around your pool, and this rule should apply to the UK to. Installing a proper fence with a bolted gate that can't be accessed by young children and pets is one way that you can stop preventable, sometimes deadly, accidents from happening.
You should also make sure that you have a good lighting system in place so your pool is illuminated during the nighttime, with a motion sensor so the lights aren't on 24/7/.
Enjoy your pool deck!
Whatever you choose in terms of design, having a pool in the UK is an investment that more people than ever before are putting their money into. This means pool design is on the up, and the options for what is possible will only keep growing as the years progress. Keep one eye on the trends, but don't be afraid to pump your personality into your beloved pool area, and feel free to show us what you do with your space.
Ryan Jenkins is a professional gardener and has been working in the gardening industry for over 25 years. This has allowed Ryan to accumulate a vast wealth of gardening knowledge which he shares on the Sefton Meadows blog.