As the weather starts to warm up, many homeowners are starting to think about their gardens. While some popular garden trends will continue to be popular this year, there are a few new trends that are beginning to emerge. The Sefton Meadows team decided to look at some of the most popular garden trends for 2022.
What's popular in search?
Before we get stuck into the trends, we needed to find what people were searching for. Out of the most discussed topics we found across the web, these were the garden and gardening related terms with the highest search volumes.
| Keyword | Avg Search Vol 2022 |
| --- | --- |
| garden furniture | 301k |
| rattan garden furniture | 135k |
| garden storage box | 49.5k |
| garden sheds | 49.5k |
| garden chairs | 49.5k |
| garden bench | 49.5k |
| garden storage | 33k |
| garden lights | 33k |
| small garden ideas | 27k |
| solar garden lights | 27k |
| garden bar | 27k |
| garden ideas | 22k |
| garden office | 22k |
| garden screening | 22k |
| garden edging | 18k |
| garden design ideas | 18k |
| garden mirrors | 18k |
| garden swing | 18k |
| garden arch | 18k |
| outdoor kitchen | 15k |
| garden trellis | 15k |
| garden gazebo | 12k |
| japanese garden | 12k |
| front garden ideas | 10k |
| bamboo garden | 8k |
| garden gnomes | 8k |
| garden canopy | 7k |
| chinese garden | 5k |
| rose garden | 5k |
| garden pond | 5k |
Of the above, these terms are on the rise…
Several trends have fallen off the wagon since 2019, but these trends are still growing from strength to strength, with keyword volume rises of up to 200%.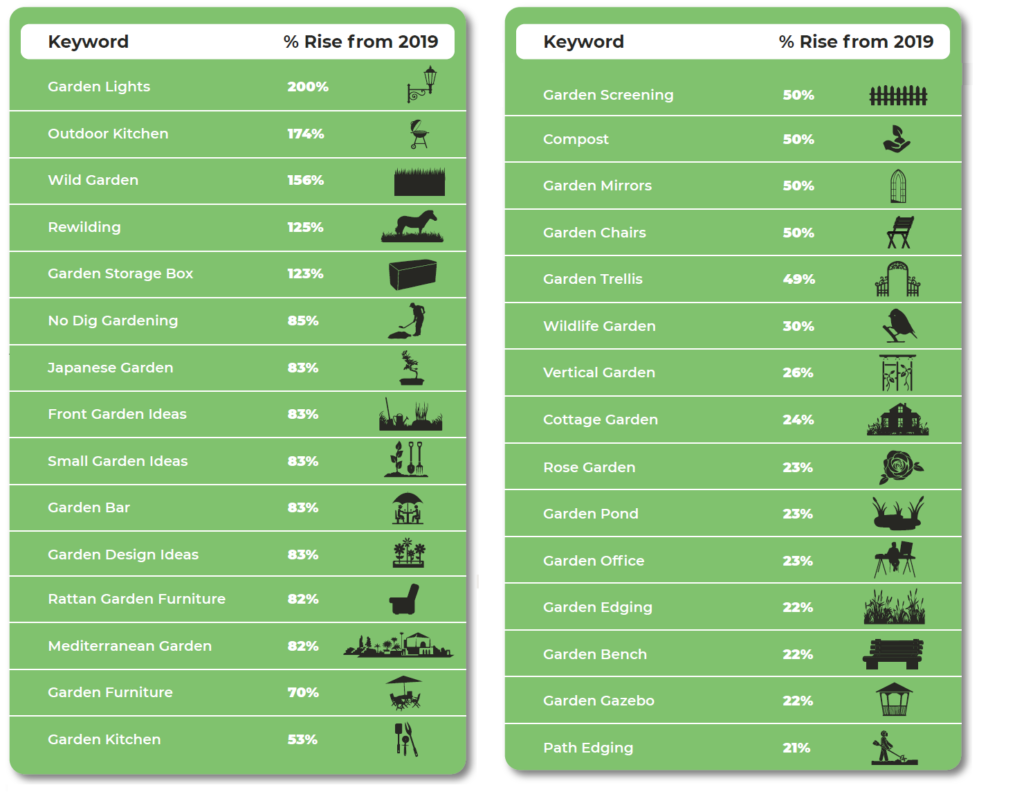 Whilst these terms have seen better days…
Several trends hit their peak popularity in 2019, 2020 and 2021, but have ultimately seen a drop since the first year we examined the search volume.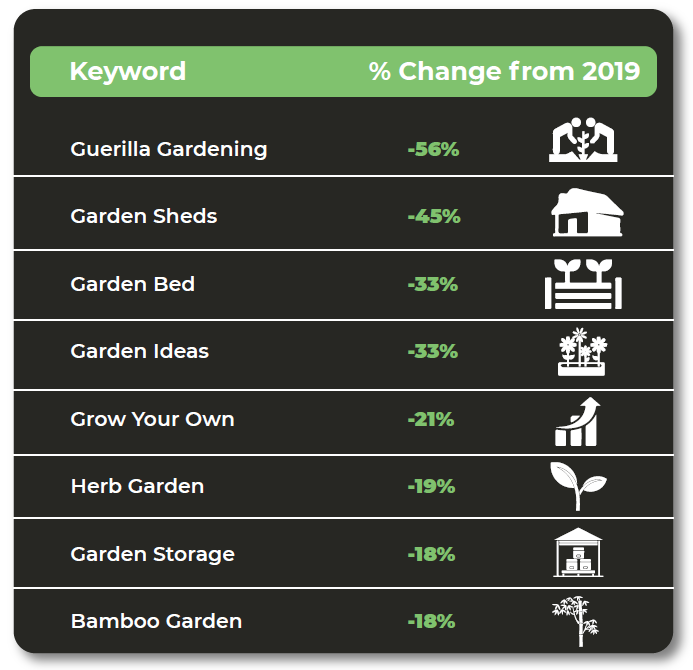 Which garden types are most popular?
Japanese and Mediterranean gardens are seeing a surge in popularity, but herb and bamboo gardens have been cast aside.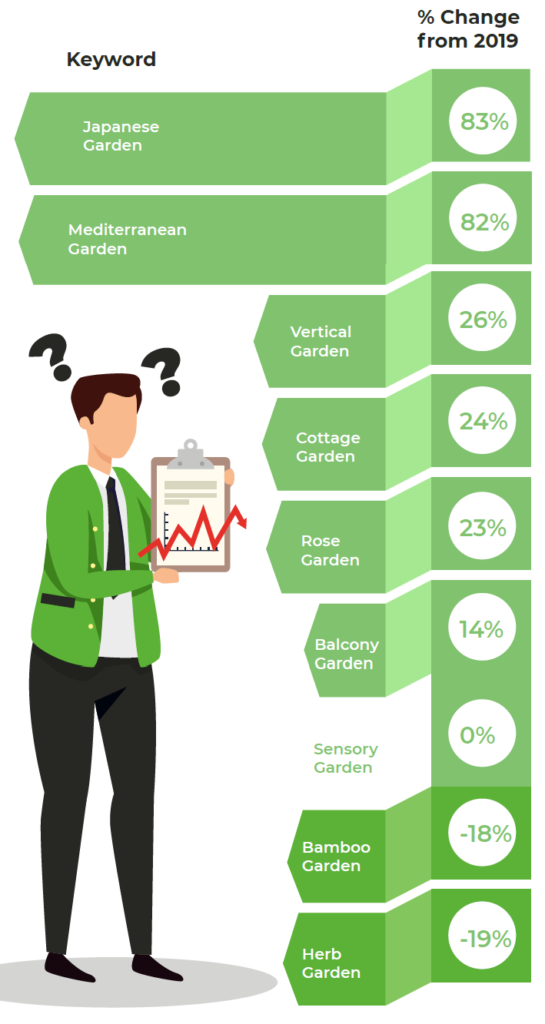 Trends in gardening styles have changed
Grow your own and guerrilla gardening are taking a backseat, whilst no dig gardening and composting rise to the top.

Bringing the indoors outdoors is still popular
People are as desperate for space as ever before, and are still turning to their gardens to provide an extra 'room' to spend time in.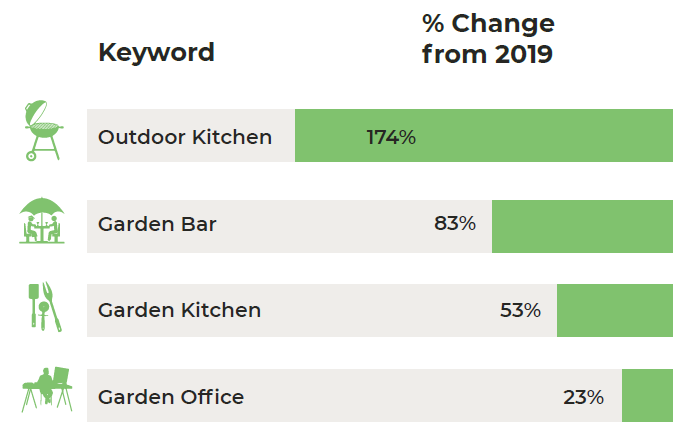 ---
Method: Reviewed Google Trends data, alongside industry trends and conducted keyword research for "gardening" terms to construct list of trends that are currently being talked about. Exported search volume data for these keywords and made comparisons based on this.
Note: comparisons are July 2022 vs July 2019 to skip the surge in search volume for gardening terms that occurred during the pandemic. These search volumes weren't representative of 'normal' user behaviour patterns.
Sources
Ahrefs
SEMRush
Google Trends
Ryan Jenkins is a professional gardener and has been working in the gardening industry for over 25 years. This has allowed Ryan to accumulate a vast wealth of gardening knowledge which he shares on the Sefton Meadows blog.