Winter can feel like a bit of a miserable time in the garden. So many beautiful colours have faded, the job of nurturing attractive blooms is off the to-do list, it's raining all the time, and the nights come in too soon for you to carry out any work. But, despite appearances, there is still a lot to be done.
52% of British people abandon their gardens during winter[i], claiming that their plants will die regardless and they can just replace them in the spring. This simply isn't true. Winter is the perfect time to look after dormant flowers, nurture some brand new winter flowering plants that will bloom throughout the colder season and start preparing for next spring. To help keep your garden looking great this winter, we've put together a guide on the jobs you'll need to do throughout the season to keep you busy right through to spring.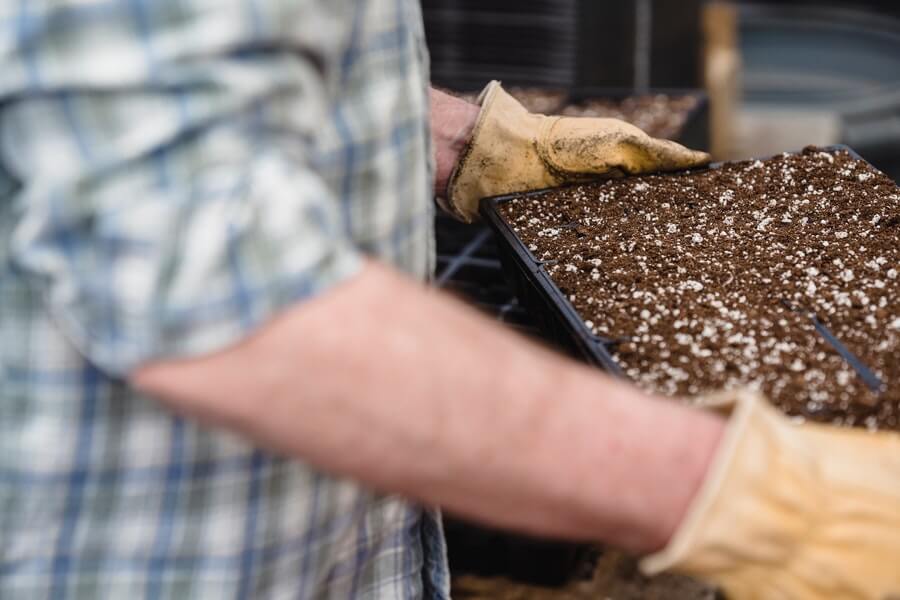 Winter Garden Jobs
Although the month by month lists of garden jobs for winter isn't too strenuous, they're all essential tasks. Even through the coldest months, keeping on top of your garden's needs is vital to healthy growth come spring, so set aside the time before the nights set in to get them all done.
Gardening Jobs For December
There aren't many jobs to do in the first month of winter, just some general maintenance, planning ahead and keeping an eye on any winter flowering plants. If you've maintained your garden throughout autumn, some of these you might be able to skip but make sure they're all sorted before the New Year.
Secure winter protection structures
Clean gardening tools
Test greenhouse heaters
Insulate outdoor taps
Prevent ponds from freezing
Prune vines, acers and birches before Christmas to avoid bleeding
Harvest remaining root vegetable crops
Transplant any trees and shrubs
Plant your last trees and shrubs
Take hardwood cuttings
Reduce watering of houseplants
Plan ahead for next spring
Gardening Jobs For January
Since the days slowly start to get longer this month, there will be a bit of action starting up again in your garden. Use the dryer days to keep up on the garden and start ordering for the upcoming spring.
Prune apple and pear trees
Clean out plant pots and greenhouses
Cultivate any vacant plots
Scatter worm casts across lawns
Check tubers of plants such as Begonias and Dahlias for rot
Begin forcing rhubarb
Plan your vegetable plant rotations for the spring
Supply food and water for birds and other wildlife
Recycle your Christmas tree – you can use this for mulch
Order seeds for spring
Take note of any winter flowering annuals that are blooming in your garden so you can re-order them next autumn
Gardening Jobs For February
With the approaching signs of spring, February is quite an exciting month in the garden. Finally, you can start preparing for spring, both indoors and out, and can watch as bulbs begin to appear and wildlife finally starts to emerge.
Prepare vegetable beds
Sow suitable vegetables undercover
Chit potatoes
Protect the blossoms of apricots, nectarines and peaches
Use nets to cover fruit and vegetable crops and keep the birds away
Prune winter flowering shrubs
Prune wisteria
Prune evergreen hedges
Prune conservatory climbers
Divide bulbs
Plant bulbs that need to be planted 'in the green.'
Cut back deciduous grasses
Remove dead grass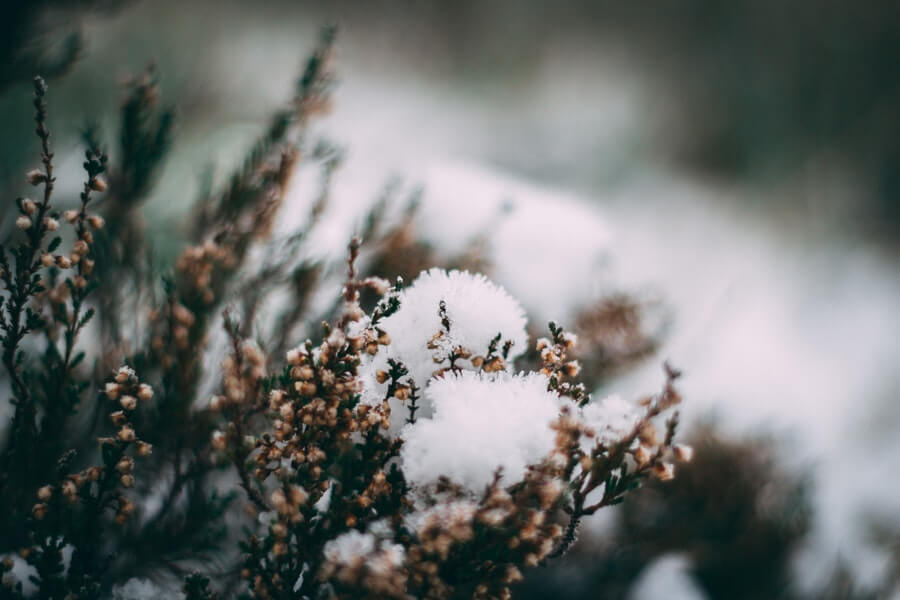 Winter Flowering Plants
Just because the days are getting darker doesn't mean your garden has to as well! There are plenty of beautiful winter flowering plants that will keep your garden alive with colour throughout the coldest of days. So if you can get your desired winter flowering plants sowed by early winter at the very latest, you can look forward to a rainbow of colour throughout the season.
Winter Honeysuckle
Christmas Rose
Pansies
Winter Aconites
Daphne
Snowdrop
Mahonia
Winter Clematis
Winter Heather
Cyclamen
Quince
Viburnum bodnantense
Winter cherry
Winter jasmine
Early flowering daffodils
Sweet Box
Witch Hazel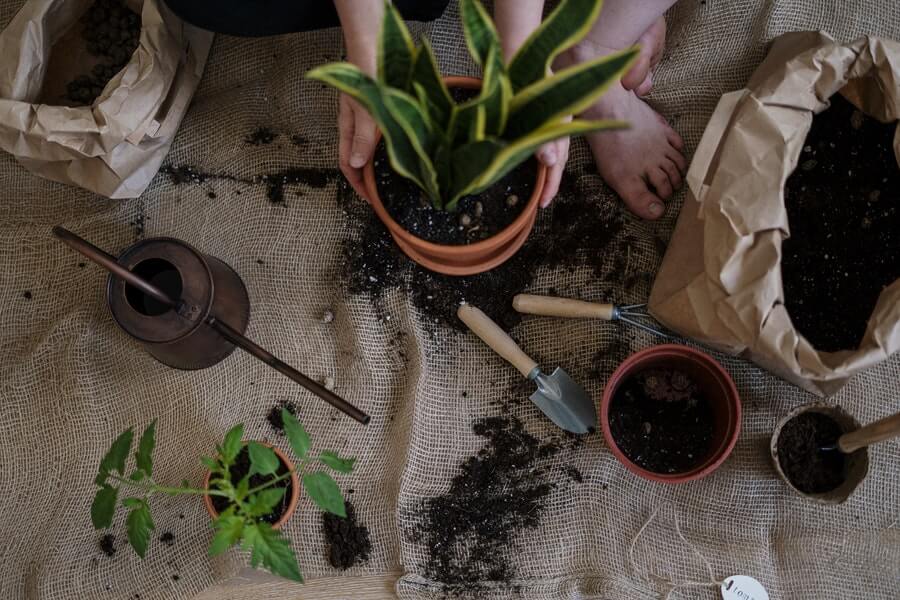 What To Plant In Winter?
Aside from the surprising number of plants that can be grown over winter, the colder months are also the perfect time to get ahead for the spring. Just because your flower beds and vegetable patches may be out of action doesn't mean you have to abandon your hobby. These plants can be prepared and grown indoors or in a greenhouse, and some can even be left outside in plant pots if you're feeling brave!
Flowers
Tulip bulbs
Lily bulbs
Allium bulbs
Saxifrages
Primula
Dianthus
Lobelia
Snapdragons
Laurentia
Begonias
Geraniums
Hollyhocks
Chrysanthemums
Bare root roses
Wintersweet
Fruit
Strawberries
Blackberries
Gooseberries
Blueberries
Currants
Raspberry canes
Rhubarb crowns
Cucumber
Vegetables
Sweet peas
Broccoli
Sprouts
Chard
Garlic
Winter lettuces
Kale
Spinach
Mooli
Turnips
Winter Purslane
Pea shoots
Broad bean shoots
Exhibition onion seeds
Potatoes
Celery
Spring onions
Spinach
Asparagus pea seeds
Shrubs
Lavender
Ivy
Cotoneaster sternianus
Trees
Bare-root fruit trees – such as
Stone fruit trees – such as peaches or nectarines
Magnolia trees
Herbs
Land cress
Rocket
Coriander
Creeping thyme
Parsley
Dill
Mint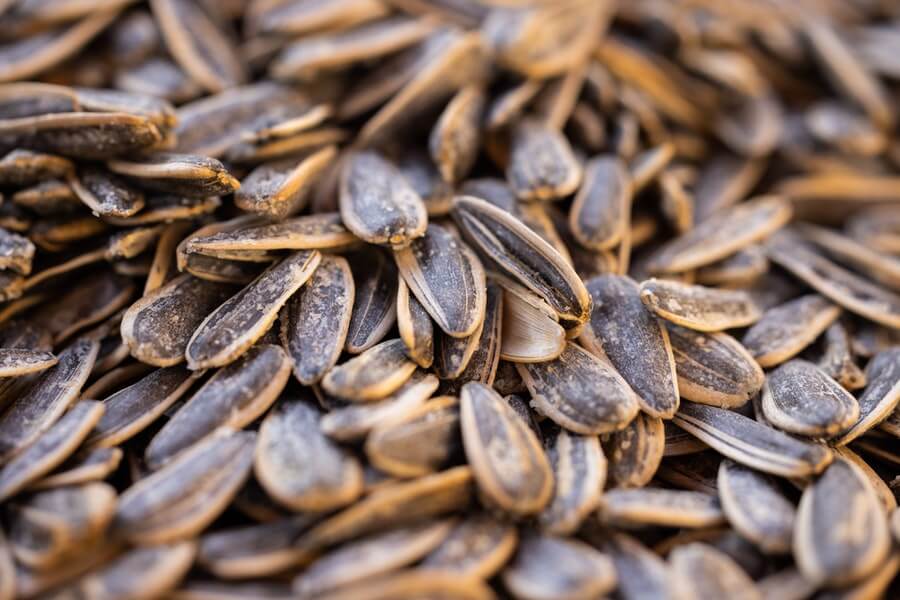 What Seeds To Order In Winter
Knowing what seeds you'll want to order ahead of time can save you a lot of stress throughout winter and into spring. Of course, you'll sow all of these seeds in spring and summer, but winter is the most popular time for buying seeds, so get your orders in early to avoid any disappointment.
Second early or maincrop potatoes – Maincrop potatoes take longer to mature than the second early variety, but they will be bigger and store better.
Summer-flowering bulbs, such as gladioli, freesias, begonias and alliums.
Asparagus crowns
Sweet pea seeds
Perennial plants, such as foxgloves
Summer bedding plug plants, like geraniums and marigolds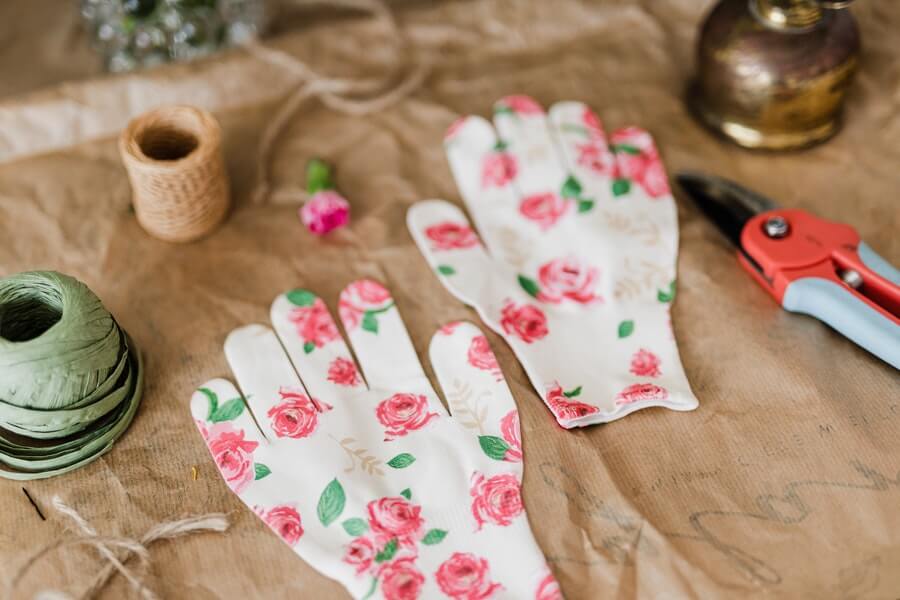 General Garden Maintenance
Various general jobs will need doing throughout winter that you may have overlooked amid everything else going on. For example, keeping on top of general maintenance in your garden – pruning, trimming, tidying up etc. – may be the last thing you feel like doing during winter, but just think how easy it will make your life come spring!
A Final Tidy Up
Before letting the majority of your garden take care of itself for a couple of months, it's best to have one last thorough tidy up. Before the first frost takes over, have a final mow of the grass, trim the hedges and remove any weeds to keep your garden looking tidy. Collect up any last-minute fallen leaves, have a quick jet wash of any paths, patios and driveways, and declutter the space so it can thrive through winter.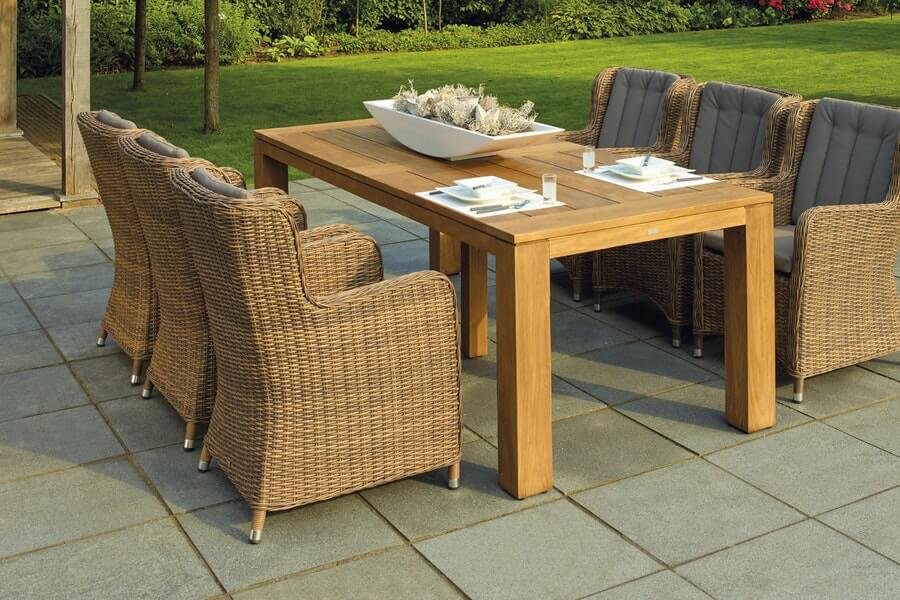 Store Away Garden Furniture
Although you can cover garden furniture, protecting and storing it in winter is best to maintain its longevity and durability. Different winter garden storage options depend on the material of your furniture, so make sure you treat and store yours properly so it can be put straight back to good use in the summer.
Wooden Garden Furniture
Wooden garden furniture needs treating before putting away for winter. First, give it a thorough scrub with hot, soapy water and a stiff brush, then, once it's completely dry, apply a wood preserver. Once this has dried, you can safely store the furniture away.
Rattan/Wicker Garden Furniture
Due to its design, wicker and rattan garden furniture can be tough to clean. Dust gathers quickly in the weave, so vacuum it thoroughly before using hot, soapy water to give it a good clean down. You should always take wicker furniture inside during winter, but synthetic rattan has a better chance of surviving well. Still, if you have the room, it's best to store it away.
Take a look at some of our rattan garden swing seats.
Metal Garden Furniture
Rust and corrosion are the biggest issues when storing away metal garden furniture. First, give it a thorough clean, then check for any rust spots. Remove these before putting the furniture away with a regular rust removal product and, once it's dry, store it under a cover in your storage space.
Plastic Garden Furniture
If you don't keep plastic garden furniture dry and well ventilated, it may fall victim to mildew. If you spot any affected areas before putting your furniture away, try rubbing a little neat bleach on the affected area to restore its original colour. Then, to avoid further discolouration, clean your furniture with a soft cloth and hot, soapy water and dry it thoroughly before storing it indoors under a tarp.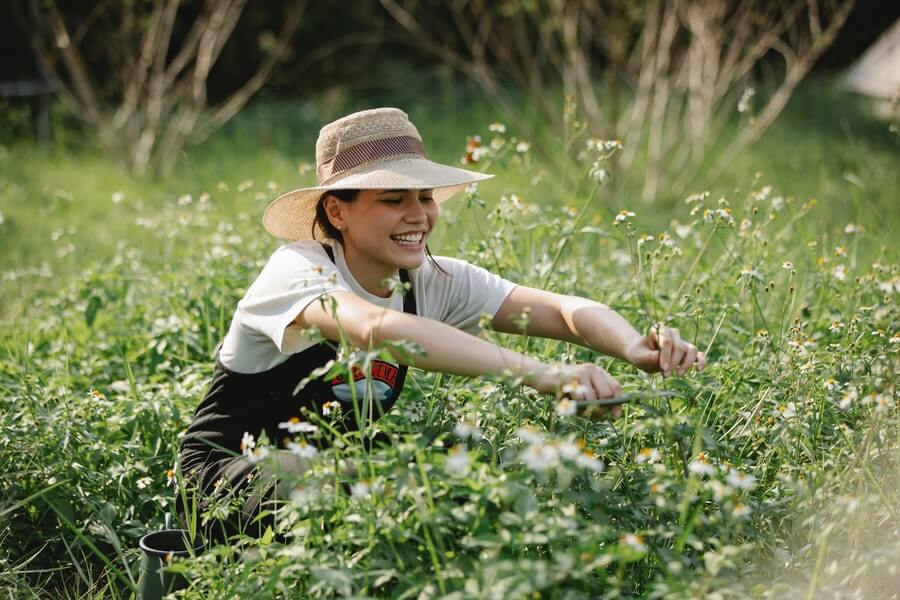 Deadhead Plants
Deadheading refers to removing flowers from plants that are fading or are already dead and should be carried out regularly throughout the year. It is done to keep the plants healthy, encourage more blooms, and keep your garden looking attractive. As winter approaches, your autumn flowering plants will likely need deadheading for healthier flowers next year. As soon as plants begin to look limp and scruffy, break out the scissors and get rid of the culprits.
How To Deadhead Plants
You can deadhead many plants using your hands. Simply pinch off the dying blooms using your thumb and forefinger, preferably removing the stalk too. If a plant is particularly tough or string, you can use scissors or a knife.
Stay Busy!
So, now you know – just because most of your plants go dormant over the winter doesn't mean you can! So, keep your garden maintained, get some beautiful winter flowering plants in early, stay up to date with the rest of your planting and order ahead for a spring filled with ease and colour!
Sources
[i] https://uk.style.yahoo.com/heres-put-garden-bed-winter-121237213.html
Ryan Jenkins is a professional gardener and has been working in the gardening industry for over 25 years. This has allowed Ryan to accumulate a vast wealth of gardening knowledge which he shares on the Sefton Meadows blog.