Pergolas are a creative and smart-looking way of adding shelter to any outdoor space. These structures are usually made with wood and are available to purchase in different designs and sizes. However, many peoples' main gripe with pergolas is that they don't have covered sides like a lot of gazebos. But the simple addition of screening for pergolas can completely transform their look and functionality. In this article, you will find the five best screening ideas for pergolas that are bound to make them more impressive in your garden. These ideas include:
---
Can you screen a pergola?
Yes, of course you can screen your pergola – and it might not be as difficult as you'd think. There are dozens of methods for screening a pergola to adapt it to your needs – whether you want to cover two sides to get privacy from nosy neighbours, or you'd like the option to completely enclose your pergola to create a cosy outdoor space.
Take a look at our range of pergolas.
---
The best screens for pergolas
When it comes to pergola screening, the sky is the limit if you think creatively. We've created a list of our favourite screens for pergolas that are extremely effective.
1. Foliage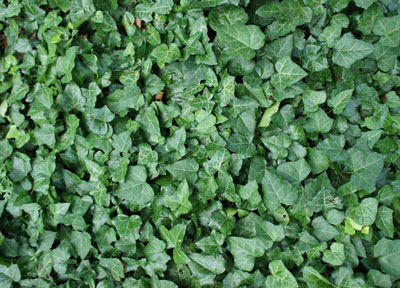 Foliage is a natural way to screen the sides of your pergola. There are several options when it comes to using foliage as screening.
Tall bushes – plant tall topiary bushes in raised beds or pots and place them around the sides of your pergola, leaving one side exposed.
Trellises – purchase trellises that fit your pergola sides (you may need more than one per side, so measure carefully). You can use these to grow climbing plants like vines and flowers.
Using plants is a higher maintenance option but is very effective and fantastic for local wildlife. If you want to achieve the look but can't commit to maintaining live plants, you can get fake foliage panels that will do the job.
2. Mesh screening
If your main concern is being attacked by pesky flies and wasps whilst you're trying to relax outside during the summer months, a simple mesh screen might be the best option for you. The benefit of mesh screening is that it won't block out much light, but it isn't ideal if you're looking for more privacy. If you don't want to spend a fortune, you can nab mosquito curtains which are just as effective at a relatively low price.
3. Fencing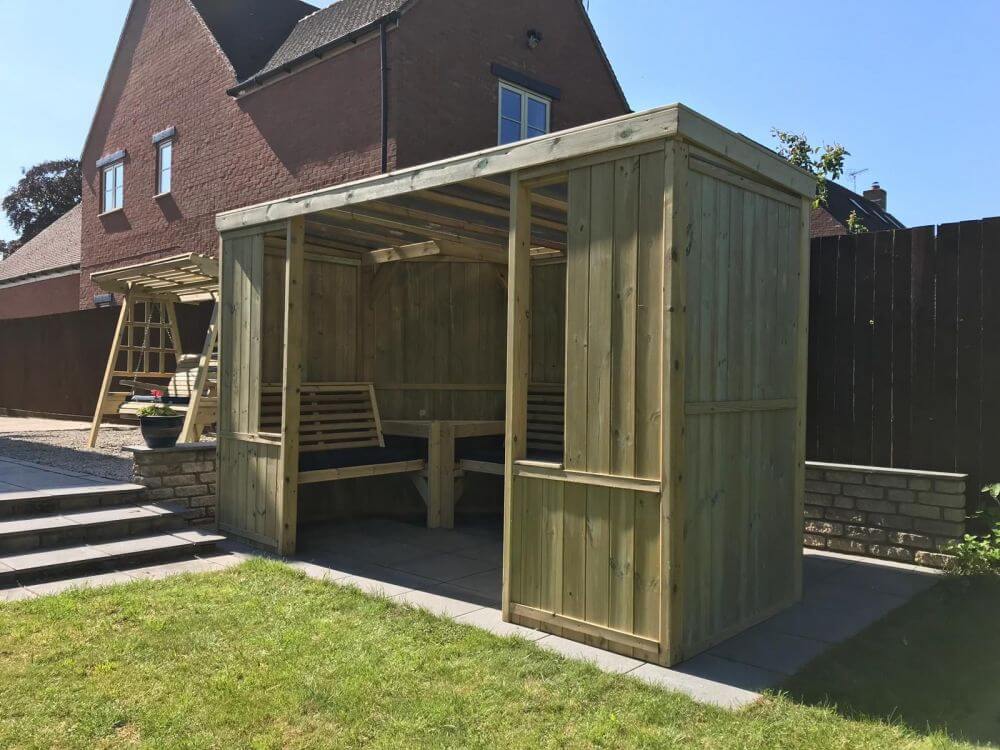 There is nothing stopping you from using standard fencing to screen your pergola! A fence is a sturdier solution and gives you a lot more freedom in terms of design and materials – however, it's unlikely you'll find fencing that will reach the top of your pergola so be mindful of this.
Some of our favourite fencing solutions include:
Cane fencing – this is a cost-effective solution that requires less set-up than a solid fence. Vertical and horizontal options are available, and some variations can be cut down to size with relative ease.
Picket fence – most picket fencing only reaches around hip height, but coupled with some taller bushes or trellises, this can make a really lovely screening option. They are easy to paint if you have a specific colour-scheme in mind, and they will provide some separation from the rest of the garden without blocking your view.
Lattice fencing – simple, wooden lattice fencing is a great choice for those who want privacy but don't want to block out all the light from their pergola area.
4. Curtains
Give your pergola a magical touch by installing curtains. Using curtains for your screening will allow you to quickly change your pergola from a tropical, summer paradise to a cosy spot for autumn fire pit nights (just remember to keep a side open for ventilation!). Waterproof, white, flowy curtains create a gorgeous effect. Most outdoor curtain materials can be easily washed by hosing them down which is even more of a bonus.
5. Decorative screens
We've left the easiest option until last, but you can buy purpose-built screens for your pergola. These screens are similar to fences but are usually a lot more decorative with the goal of diffusing sunlight across the area instead of completely blocking it out. They provide an element of privacy without making you forget that you are actually in a garden – letting in the beautiful sights and smells of nature just outside of the pergola.
---
Why should you screen your pergola?
Are you still not convinced? Or does someone else in your household need convincing that pergola screening is a worthwhile investment? These are the top reasons why you should consider screens for pergolas as an absolute necessity in any outdoor space:
Privacy – this is the most common reason for people installing screening. Whether you have neighbours who overstep the mark or your garden feels a little bit exposed, screening provides a quick and inoffensive solution. If this isn't enough, we've created a guide on how to make an overlooked garden private that you can check out.
Shade – it isn't often sunny in the UK, but when it is, it can get very hot very quickly. Because we aren't used to too much sunshine, we often forget the importance of protecting our skin. A pergola with screening can help to keep the heat off your summer seating area and allow you to spend more time outside.
Shelter – during the 80% of the year when it isn't sunny, you need to ensure your outdoor seating is protected from wind and rain to make the most of it. Screening can offer this protection and extend the time that you can make use of your garden each year.
---
What is the cheapest way to cover a pergola?
If budget matters more to you than looks, the cheapest way to effectively screen your pergola is by tying sheets of materials to the exposed sides. You can pick up un-fitted bed sheets for a relatively low price, put holes in the corners, and use garden twine or a thicker rope to secure them to the pergola's poles.
Unless you choose a waterproof fabric, you might be best bringing the sheets in each night and when it is raining to keep them clean and dry.
---
Start planning your pergola screening
When it comes to screens for pergolas, remember that there are many options available to you, including:
Adding faux foliage or tall plants
Attaching trellises to act as walls
Simple but effective wooden fencing
Utilising waterproof tarps or other materials
Purchasing or making curtains
There are plenty of benefits to screening a pergola, from increasing the privacy of your garden space to securing more sun, shelter and wind protection.
Whatever you choose to do, adding screening to your pergola will transform your outdoor space, allowing you more privacy and keeping you protected from the elements whilst you sit back and relax.
Ryan Jenkins is a professional gardener and has been working in the gardening industry for over 25 years. This has allowed Ryan to accumulate a vast wealth of gardening knowledge which he shares on the Sefton Meadows blog.