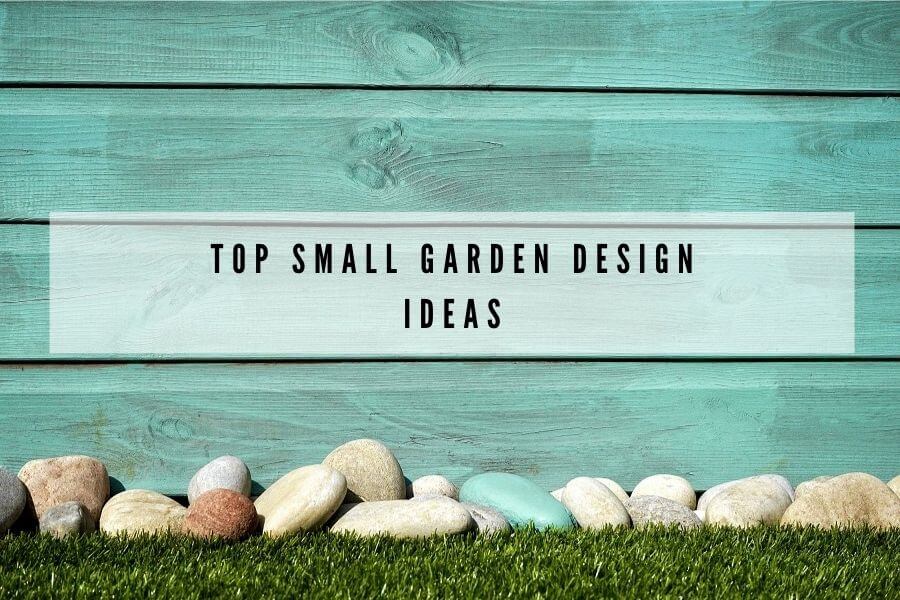 The size of your garden can have a huge impact on how you use it, style it, and how much you enjoy time spent in it; but this shouldn't be the case! A small garden is as good (if not better) than a larger space, you just have to be a little bit creative with your landscaping to make the most of what you have. With some planning, patience and imagination you can easily turn your small garden into a little slice of paradise.
Unsure where to get started? Let us walk you through our top small garden design ideas.
The pillars of small garden design
Read on to become well versed in small garden design or skip to what you want to know about.
---
Landscape wisely
Planning is the first and most important step in transforming your small garden into a usable space. You need to make sure you have enough space to move freely and stage important areas without falling into the temptation of tucking them into corners or letting them get in the way.
Here are some landscaping tips:
Zoning areas – although your garden is small, you should try to have dedicated 'zones' for different activities.
Flooring – plan your flooring in accordance to zones, but don't use any more than 3 flooring styles (e.g decking, paving and grass)
Paths – make sure you have a solid idea on the location of pathways before you get started.
Flower beds – carefully plan the location and depth of flowerbeds. Make sure they are easy to access.
---
Choose the right furniture
The furniture you use in your small garden can completely make or break your relationship with the space. If you have broken, clunky, overly-large furniture crammed into a small space, it'll feel overcrowded and claustrophobic; so of course, you won't enjoy spending time there.
Step away from garden trends and have a think about what will work for your small garden specifically. If you like to host BBQs and garden gatherings, introduce cleaver, space saving seating options – we love the look of compact rattan furniture on a sunshine filled day, or you can add a touch of relaxation to your small garden with a cosy rattan garden swing, perfect for enjoying a peaceful afternoon outdoors. If you want to utilise the space for growing fruits and vegetables, reduce the clutter by choosing foldable chairs and tables that you can tuck away when not in use.
---
Be bold with patterns
It's a common misconception that patterns always make a space feel busy and claustrophobic. Don't be scared to introduce some bold, geometric patterns and shapes to your garden that will contrast with softer, natural elements like shrubs, plants and trees.
Straight lines are fine too if you don't want to go over the top, just avoid curves (e.g curved flower beds) that will eat into your space.
---
Be clever with colour
Colour can drastically change the feeling of any space, and your garden is no exception from this rule.
When it comes to walls and fences, the white in pale colours such as light greys, duck egg blues or even greens will bounce light back into your garden. This will brighten up the space and make it feel more spacious. If you're aiming for spaciousness, avoid bright colours or just stick to painting one feature wall brightly. Bright colours can feel like they are moving towards you and closing you in.
Instead of taking the bright orange paint to your fence, upcycle some planters, chairs or even a mosaic bistro table to add a lovely pop of colour.
---
Follow the rule of three
The 'rule of three' is a relatively common design concept that can be applied to gardens, and it works especially well in smaller gardens and outdoor spaces. Clustering or lining up items in threes creates a bold statement[i].
Following this rule with plants and ornaments will help you to have some discipline with the amount of stuff in your small garden, limiting clutter and drawing peoples eyes to focus areas.
---
Play with light
Light has a huge impact on how spacious your garden appears. If you have overgrowing hedges or trees that block natural sunlight, your garden can feel oppressive and small. If you have windows facing onto your garden, this can also affect the light coming into your home.
So, if you can, have trees, hedges and shrubs cut back. Add mirrors to shadier spots of the garden to throw light around and made the space feel bigger, and invest in good LED lights and string lights for the night time.
---
Distract from the size
No matter how much effort you put into making your garden feel bigger, sometimes the size of it is hard to ignore. However, with some creativity and hard work, you can add some unique elements to your garden that will distract from its small size. For example, you could: –
Theme your garden and add interest pieces (remember to stick to the rule of three!)
Decorate your seating area with stunning tiles and textiles
Create a 'focal point' for your garden by adding a small water feature, statue or pond
Add trellises and arches with climbing flowers for some extra colour
---
Don't forget privacy
Although you want to make your garden feel and appear bigger, don't let this mission compromise on privacy. In the UK, a lot of smaller gardens are often overlooked by neighbouring properties, so you need to keep this in mind when designing your space. Keep seating areas in spots that can't be seen from other houses if possible, and be mindful of using fences, hedges and climbing plants as privacy screening if necessary.
---
Plants for a small garden
Something we haven't covered yet is arguably the most important aspect of any garden – the plants! Choosing plants for your small garden is partly down to personal taste and your gardening abilities, but you should also be looking for high-impact, compact, low maintenance plants. See below our suggestions for flowers, plants and shrubs which work particularly well in compact spaces.
Climbing Plants
Whether you opt for wall ivy or floral climbers for a trellis, climbing plants are the perfect way to add some natural 'oomph' to a small garden without taking up any space.
Espalier Trees (or cordon-trained trees)
These trees grow as a single stem are small-space friendly and can look extremely elegant against exposed brick walls or white fences. Many fruit trees like apple apricot and peach trees can be trained to grow this way.
Scented Plants
Honeysuckle, Lavender and other straight growing plants are perfect for adding beautiful, natural fragrance to a small space.
Hanging Baskets
There are few things as lovely as a well presented hanging basket! These can add a colourful element to your garden without taking up precious ground space. Fill with a variety of trailing flowers, hardy succulents and container-friendly sedums.
Flowers
There are hundreds of flower varieties that work perfectly in compact spaces. These are some of our favourites[ii].
Erigeron – this is a Mexican flower that is particularly good at thriving in small cracks and crevices, so can be planted practically anywhere.
Verbena bonariensis – this flower is perfect for a narrow border or flower bed as it grows straight up instead of outwards.
Geranium – a fuss free flower that grows from May to September. Geraniums thrive in both sun and shade so are ideal for small gardens that don't get much sunlight.
Hydrangea – some varieties of hydrangea can be especially compact and will grow to a maximum of 3ft tall and 3ft wide with stunning, high-impact flowers.
Thyme – aside from being a herb, thyme is a versatile plant with pretty flowers that will quickly spread to cover bare soil and gaps in your flower beds.
---
Reclaim your small garden
Whatever you choose to do, you should never let lack of space ruin your enjoyment of your garden. You can always ask friends or a professional landscaper (budget allowing) for a second opinion on how to use your space – fresh eyes are great for fresh ideas. We hope the above tips help you to transform your space and make it feel more spacious – let us know if you have any tips of your own.
---
References
Funnell, R., 2016. PLANTS FOR SMALL GARDENS: 10 GREAT CHOICES. [Online]
Available at: https://www.theenglishgarden.co.uk/expert-advice/gardeners-tips/the-top-10-plants-for-small-gardens/
[Accessed March 2021].
Weir-Jimerson, K., n.d. Design Made Easy: Use the Rule of Three. [Online]
Available at: https://www.costafarms.com//get-growing/news/design-made-easy-use-the-rule-of-three#
[Accessed March 2021].
---
Sources
[i] https://www.costafarms.com//get-growing/news/design-made-easy-use-the-rule-of-three
[ii] https://www.theenglishgarden.co.uk/expert-advice/gardeners-tips/the-top-10-plants-for-small-gardens/
Ryan Jenkins is a professional gardener and has been working in the gardening industry for over 25 years. This has allowed Ryan to accumulate a vast wealth of gardening knowledge which he shares on the Sefton Meadows blog.