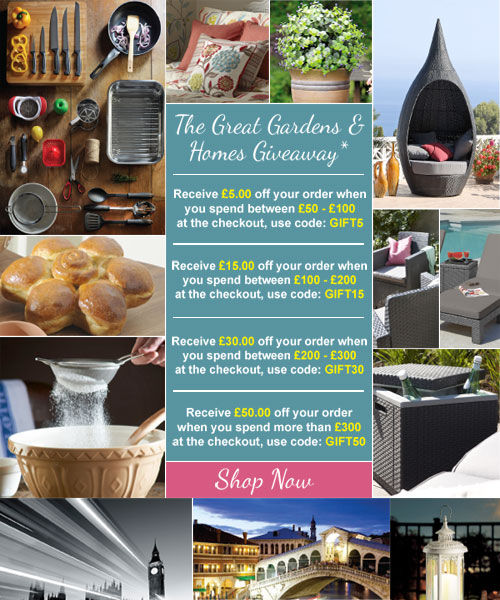 The great Gardens & Homes giveaway is our very special way of helping you save money. Until midnight, Sunday 8th March 2015, we're giving you the opportunity to save between £5.00 – £50.00 off your new order.
Whether you're looking to splash out on some new all weather garden furniture, or you're desperately searching for the perfect Mother's Day gift, you can money on what you want and as many times as you want.
What to do next…
After you've selected which products you would wish to purchase, you'll need to enter the correct voucher code at the checkout stage of your order.
Receive £5.00 off your order when you spend between £50 – £100. At the checkout, use code: GIFT5
Receive £15.00 off your order when you spend between £100 – £200. At the checkout, use code: GIFT15
Receive £30.00 off your order when you spend between £200 – £300. At the checkout, use code: GIFT30
Receive £50.00 off your order when you spend more than £300. At the checkout, use code: GIFT50
Click here to begin saving…