Now that we're in the merry month of May, it's time to start thinking about the Summer! For one thing, this month is the height of the year for blooming flowers. So, you don't want to wake up in July and realise you've missed your chance for an array of tulips in your garden.
If you start now, you'll save yourself hours of work further down the road. In the interest of preserving the beauty of a great British garden, we've come up with 5 easy ways to get your garden ready for summer.
1. Feed Your Lawn
For best results, your lawn should be fed on a regular basis. At this time of year, the grass is using up a lot of energy. Just think of it as a teenager having a growth spurt (only less grumpy). Unfortunately, this is also the prime time for growing weeds. Therefore, a good weed killer is definitely a necessity for a neat garden.
Rather than purchasing various lawn feeds, weed killers and moss killers, we suggest buying a simple package that includes all three. A quick browse round our plant and lawn care collection should help you find the right one.
2. Get Planting
Now that you've treated your lawn, it's time to start adding your favourite plants. Getting the flowers and manure might require a trip to your local garden centre. A layer of manure will help enable strong growth. Shop our essential gardening tools for everything you need to maintain a healthy garden.
3. Colour is Key
Let's face it, to impress your guests, you need a variety of colours in your garden. Brightly coloured flowers are the obvious way to start, but why stop there? There are plenty of other types of accessories that can make your garden pop. How about a vibrant parasol? Our Outdoor Cushions will definitely attract attention from your friends and family.
4. Keep it Light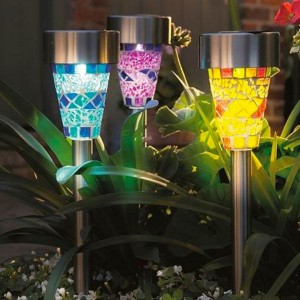 Summer doesn't end when it gets dark. Why waste those Summer nights indoors? Introduce some interesting outdoor lights and you can enjoy a nice glass of wine on the patio all Evening. Choose from a wide collection of Solar Lights, Outdoor Blossom Trees and our mysterious Fairy Dwellings!
5. Sit Back & Relax
All this might seem like a lot of work! Don't forget to lie down and enjoy your garden this Summer, it's the most important part! After you've achieved your gardening goals, all you'll need is a comfy sun lounger, a delicious barbecue and a drink!