Discover the world of the best small garden designs for the UK, where creativity and ingenuity unite to transform limited spaces into enchanting outdoor retreats. This article will explore a range of budget-friendly and simple ideas that breathe life into your small garden, proving that size should never limit the possibilities. There are myriad ways to make the most of your small garden without breaking the bank, from clever use of recycled materials to space-saving vertical planters and charming DIY projects to strategic lighting choices. So, embark on a journey of inspiration and discover how these ingenious ideas can turn your compact garden into a delightful haven that blooms with beauty and functionality. Let's explore the endless potential of small garden wonders!
1. Garden Edging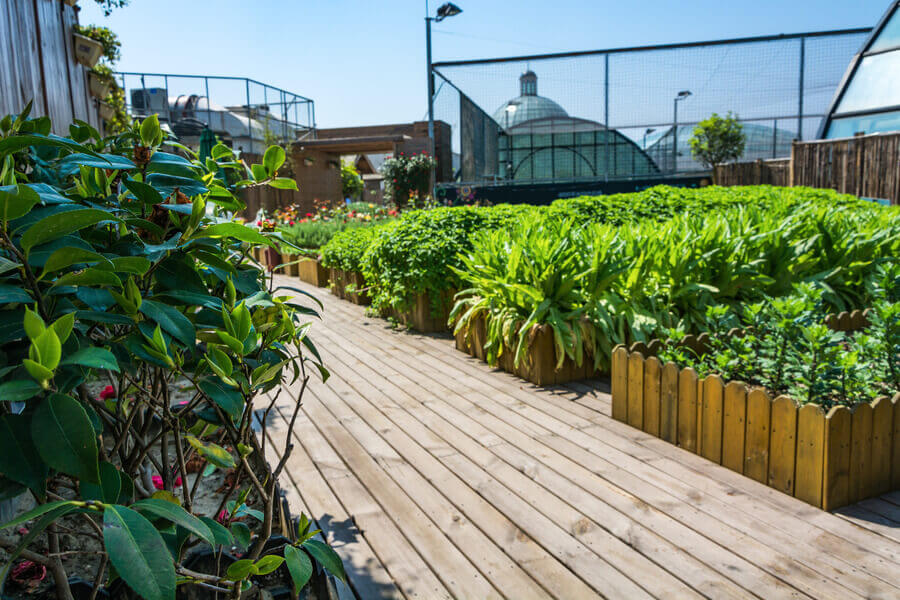 Revamping your small garden with budget-friendly ideas is readily achievable, and one technique that can make a significant difference is edging your garden beds. Following this simple process can create the illusion of a much larger space.
While edging your garden might require additional labour, the outcome will make it worthwhile. A wide array of garden edging materials ensures an option suitable for every budget.
Concrete pavers, for instance, are an excellent choice due to their exceptional durability, ensuring they withstand the test of time. These versatile pavers can serve as pathways and an affordable solution for edging your flower beds. With these small garden ideas on a budget, you can transform your outdoor space into a charming and more spacious-looking sanctuary.
2. Retaining Walls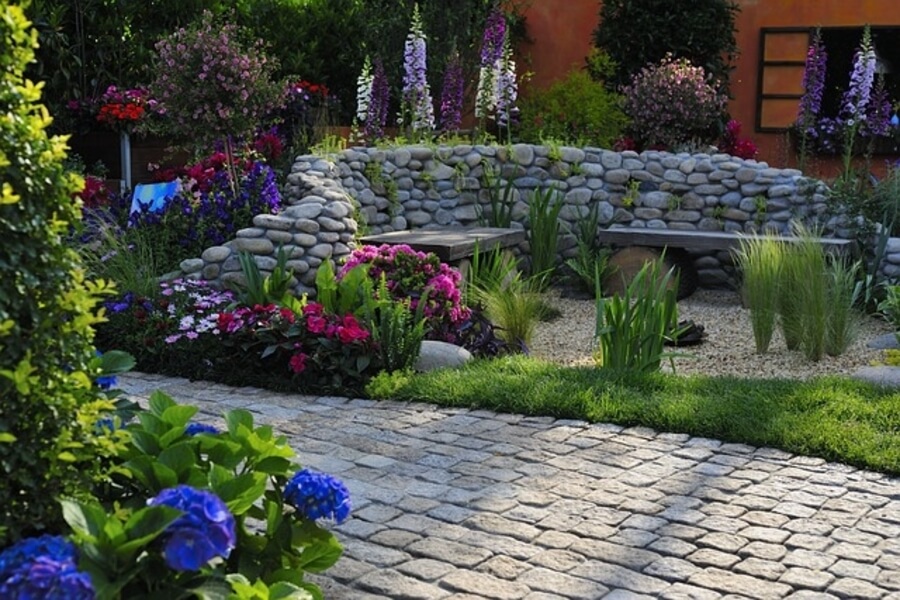 Tiered retaining walls offer a practical and visually appealing solution for small garden ideas on a budget in the UK, especially those on a budget and dealing with sloping landscapes. By incorporating natural stone or garden walling, you can create raised beds that add character and help prevent small-scale erosion while maximising the available space.
These tiered retaining walls serve multiple purposes – they provide structural support for the sloping terrain, create distinct levels within the garden, and offer opportunities for creative landscaping. You can plant different flowers, herbs, and vegetables in each tier, adding colours and textures to your garden.
One of the critical advantages of tiered retaining walls is their ability to reduce maintenance efforts. They create organised planting areas, making managing and caring for your plants easier. Additionally, they improve water drainage and distribution, ensuring that your plants receive the right amount of water, reducing the risk of overwatering or underwatering.
Please consider their specific needs and growth patterns when selecting plants for the different tiers. For areas with less sunlight and shade, opt for taller plants that tend to dry out more slowly. Choose plants that thrive in damp environments on the lower terraces, where there might be more moisture retention, ensuring prolonged blooming and vibrant growth.
Remember that a successful multi-tiered garden relies on careful planning and arrangement of plants. Consider each plant's height, colour, and blooming season to create a harmonious and enchanting small garden oasis that evolves throughout the year.
3. Painting Techniques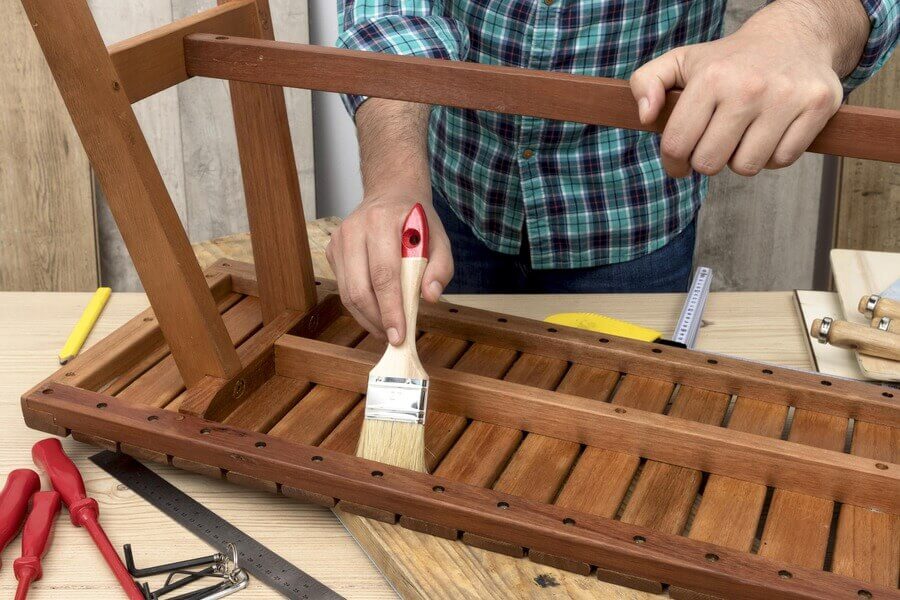 A simple yet effective approach – using paint to transform your outdoor space. While large-scale landscaping projects might not be feasible due to time or financial constraints, a fresh coat of paint can work wonders for the surfaces in your small garden.
There are various ways to add colour to your outdoor space. You can revitalise wooden sets and metal fences with a fresh coat of paint, allowing you to unleash your creativity, especially if your area has no colour restrictions. Vibrant colours like royal blue, mustard yellow, sage green, and burgundy can complement the natural setting, while classic choices like black, white, and grey exude timeless elegance.
Upgrading your garden furniture is equally straightforward. Whether you have bistro-style pieces or furniture made from wooden pallets, a new coat of paint and some fresh cushions or coverings can breathe new life into them. You can choose a unified look by painting everything the same colour or getting adventurous with different shades. For a seamless transition, consider painting your fences or garden shed the same colour as your house interior, creating a harmonious connection between indoor and outdoor spaces.
Furthermore, if your potted plants and window boxes have weathered during winter, a fresh coat of paint can work wonders to rejuvenate your garden during duller periods. Embracing these small garden ideas, with the creative use of colour, will undoubtedly revitalise and enhance the charm of your outdoor sanctuary.
Let your window box thrive with these 15 plants for a winter window box.
4. Creative Potting Techniques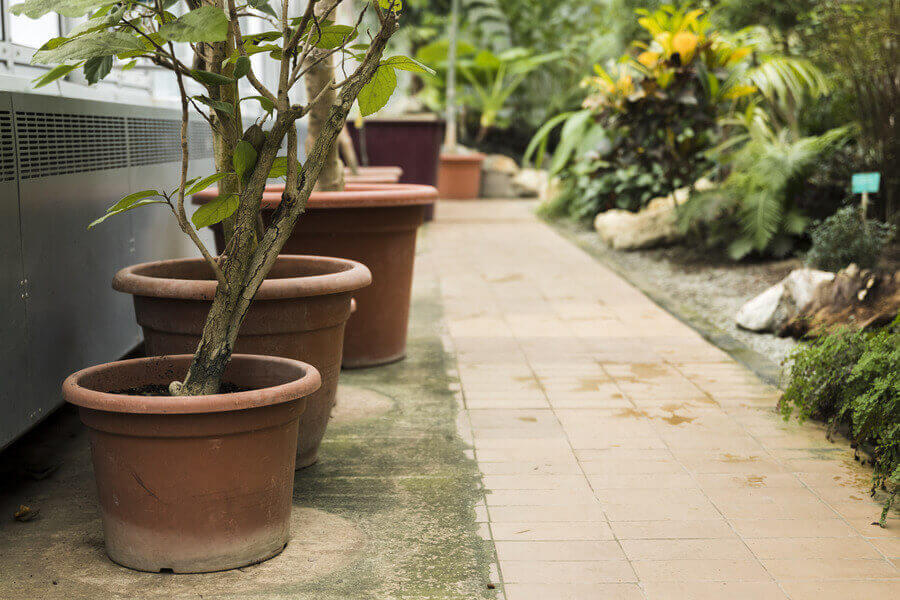 Opting for the suitable containers for your flowers and vegetables is a simple yet effective way to spruce up your garden on a budget, and is particularly popular for small garden designs in the UK.
Outdoor plant pots play a crucial role in updating the overall look of your yard. Although they may sometimes be overlooked in favour of the greenery they hold, these pots have the potential to make a significant impact and instantly brighten any space.
Consider using terracotta, stone, or soft neutral pots to create a rural garden impression. Metal pots with navy-blue accents can achieve a charming effect for a laid-back seaside theme. Alternatively, you can enjoy an exotic vibe with sunny yellows and cherry reds.
An ingenious and budget-friendly trick is repurposing unused aluminium tins as plant pots. Add a coat of paint to these tins, and they will come to life as delightful homes for your plants or herbs, adding a touch of creativity to your small garden.
Incorporating these small garden ideas on a budget in the UK, especially by selecting the proper containers, will elevate the charm and aesthetics of your garden without a hefty price tag.
5. Adding Oversized Planters
container gardening offers a versatile and cost-effective option. However, expenses can quickly add up, especially if you desire larger pots to work with. For a simple and wallet-friendly planter idea, you can create unique planters by wrapping a steel sheet into a circle and securing it with roof bolts through the holes in the sheet. To ensure safety, make sure all the edges are tucked within to avoid any risk of cutting yourself.
This creative approach is perfect for accommodating tiny trees and shrubs and works equally well with your favourite flowers. Additionally, you can repurpose old wooden containers to create garden storage or arrange upturned trays as shelves for plants, pots, or gardening boots. Remember to secure everything to the ground if possible to prevent any mishaps caused by windy conditions.
With these budget-friendly small garden ideas, you can add character and charm to your outdoor space without overspending. Embrace the simplicity of this approach while exploring various possibilities for enhancing your garden's beauty and functionality.
6. Installing Artificial Grass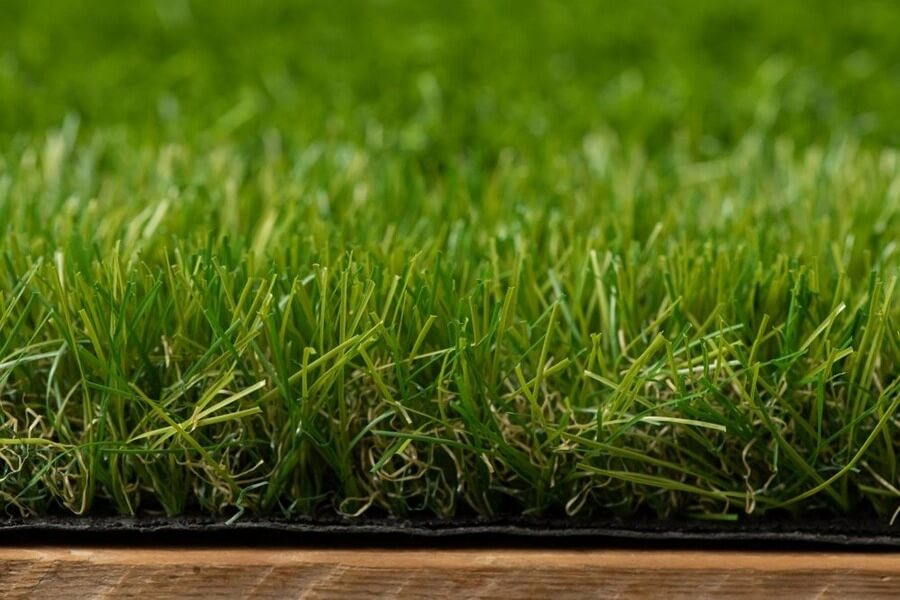 For small garden ideas especially for those on a budget, consider the simplicity and practicality of artificial grass to enhance your small-space gardens and courtyards. You can significantly reduce maintenance time by incorporating artificial grass while enjoying a consistently attractive yard throughout the year.
Opt for UV-protected artificial grass, which can be found at Artificial Grass Direct, which ensures it won't fade in the sun, making it a perfect choice for outdoor areas. This means your garden will maintain its beautiful, natural green appearance for many years. Moreover, cleaning the artificial grass is a breeze. You can easily remove accumulated dirt or fallen leaves with a simple brush. A pressure washer can rescue you from more stubborn stains, helping you refresh areas where pets may spend time or other hard-to-clean spots.
By embracing artificial grass, you can create a low-maintenance, evergreen oasis in your small garden, offering a practical solution that remains visually appealing and budget-friendly in the UK's changing seasons.
7. Planting and Propagating Perennials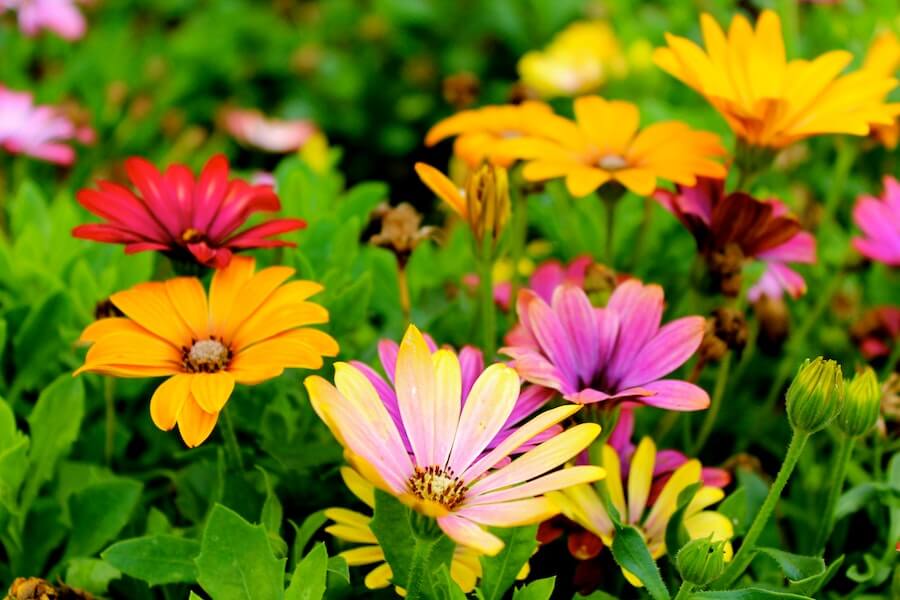 Consider a simple yet sustainable approach – opting for perennials for your garden beds. By choosing perennials, you make a one-time investment that rewards you with blooming flowers year after year, saving you money and effort in the long run.
To enhance your small garden designs in the UK without incurring additional expenses on new plants, take advantage of perennials' natural ability to propagate. You can achieve this by dividing mature perennials or propagating cuttings from existing plants to kickstart fresh growth. However, if you seek a more uniform and organized appearance in your landscape, opting to divide the perennials would be a better choice over cutting them.
When planning your small garden, carefully calculate the number of plants that can comfortably fit in the space. Ensuring proper plant spacing is essential for managing your garden effectively. Be cautious not to overcrowd your garden, as thinning out excess plants later might hinder the overall growth and blooming of your landscape. With thoughtful consideration and smart design, your small garden in the UK can thrive beautifully.
8. Pallet Built Garden Furniture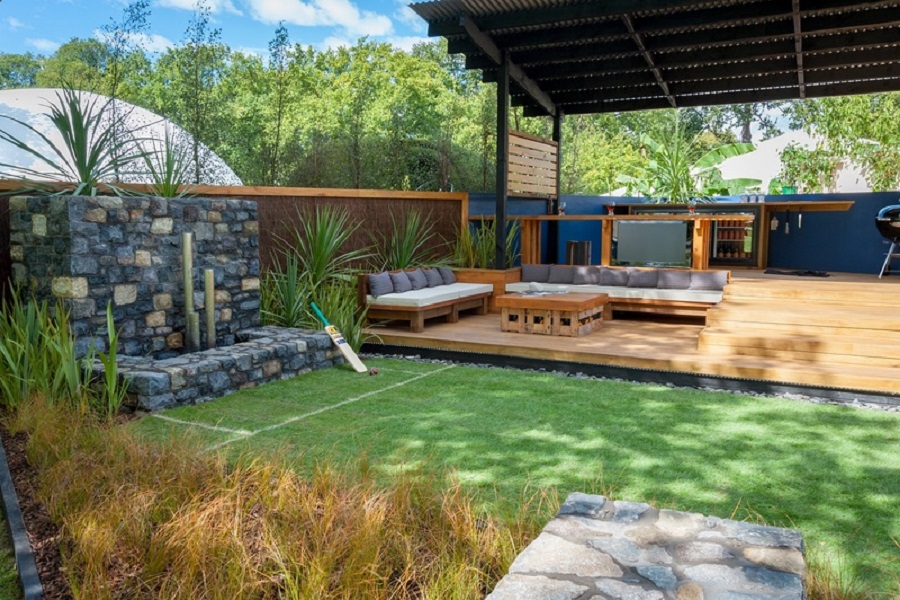 Building your furniture can be a fantastic solution, allowing you to save money and customise your outdoor space precisely as you desire. Using an old wooden pallet, you can easily create a comfortable seating area for your patio or deck. However, working with reclaimed wood requires some precautions. Before starting, thoroughly inspect the pallet to remove any protruding nails or staples and lightly sand the surface to ensure smooth edges and eliminate wood splinters.
Crafting a pallet bench for your backyard is a straightforward project. Following the inspection steps mentioned above, you'll need three pallets of similar size and condition. To build the bench's foundation, stack two pallets on top of each other and secure them together using a drill and screws. The third pallet, placed vertically, will serve as the back of the bench, which you'll also tie in place with screws and a drill.
To add a rustic charm, consider staining the pallet bench with a natural wood stain or painting it with a colourful wood finish. Enhance its comfort by adorning the bench with cushions and blankets, making it a cosy and inviting seating spot in your small garden.
With these simple DIY ideas for small garden ideas, you can create personalised and cost-effective outdoor furniture that complements your space while staying within your financial means.
9. Bring Indoor Furniture Outdoors
For small garden ideas on a budget, consider a simple and practical approach to save time and money. Utilise indoor chairs on your garden patio, placing them in a warm location. While there may be better solutions for ground-floor apartments in high-rises or low-rise buildings, it's cost-effective to avoid purchasing additional outdoor seating. Embrace the idea of using rattan or wooden chairs on your balcony and cool cane chairs tucked away in your yard for a diverse and charming outdoor seating arrangement.
To further economise, repurpose old indoor furniture by giving it a new lease of life with sealant and waterproofing products. Applying adhesive to exposed wood surfaces will safeguard them from water damage, corrosion, and mildew. If the furniture has cloth, replace it with a material that can withstand the elements without getting damaged, and consider adding waterproofing for added protection.
For a finishing touch, apply a water-resistant lacquer to metals, brass, wood, or aluminium furniture to shield it from UV rays and rain, prolonging its lifespan and keeping it looking its best.
For more information on how to waterproof wood, read this guide.
10. Garden Path Pavers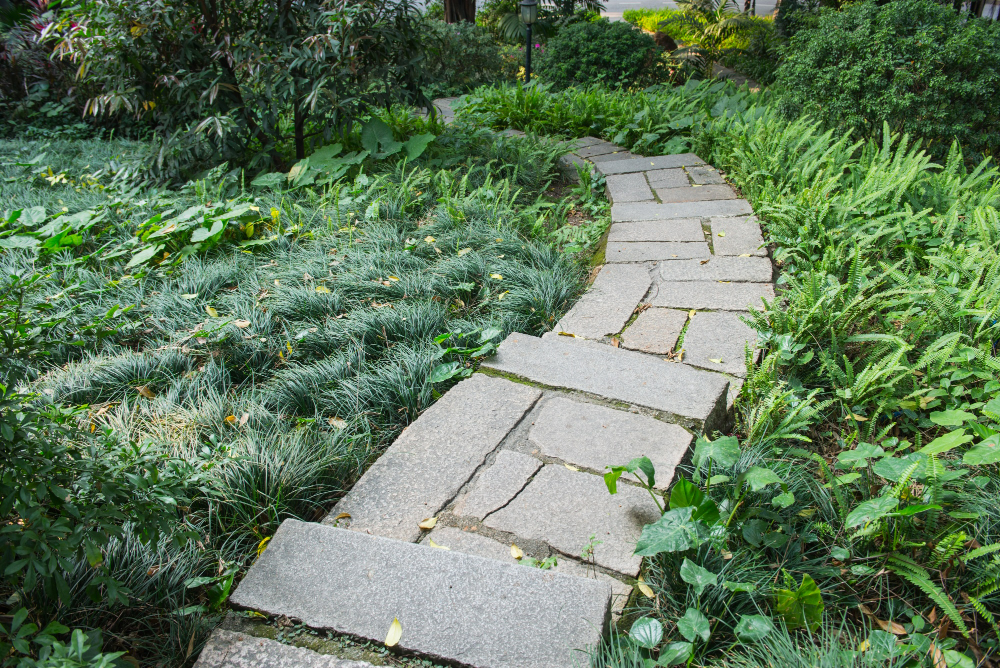 For improving your small garden design, creating a garden path can be simple and cost-effective if you choose suitable materials. Opting for a stepping stone path efficiently achieves a charming walkway without spending a fortune. It covers more ground with fewer stones, making it a practical and economical choice.
Precise small amounts of grass and dirt from the ground to craft the perfect stepping stone garden path. Then, slide garden pavers or slabs into position, ensuring they fit snugly. Add a little sand underneath the stones to achieve a more level surface. You can find detailed instructions on laying a garden path, allowing you to maximise the potential of your small garden space.
11. Use Reclaimed Pavers
Are you looking for small garden ideas in the UK on a budget? Consider the simplicity and cost-effectiveness of using recycled materials to enhance your outdoor space. Repurposed pavers, stones, and wood slats can be fantastic alternatives, helping you save money while adding a unique charm to your garden.
By taking on the project yourself, you can further cut costs as there are no labour expenses. Although new materials may sometimes have a higher aesthetic appeal, classic structures can exude a unique charm when constructed using recycled materials, adding a touch of character to your garden.
Finding a reclamation yard within your budget might be challenging if you reside in a city. However, exploring rural regions may offer better opportunities, as many reclamation yards are willing to deliver materials for free, making it a viable option for your budget-friendly garden project.
Incorporating recycled materials and take pride in creating a sustainable and unique outdoor space that showcases your creativity while being gentle on your wallet.
12. Vertical Planters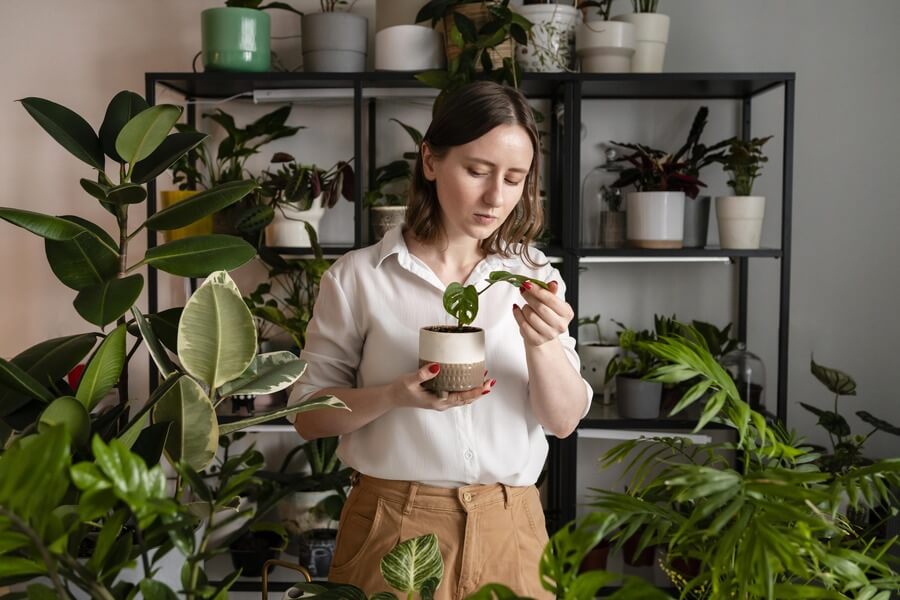 vertical planters offer a simple and cost-effective solution requiring less maintenance than traditional plants and gardens. They are particularly well-suited for smaller areas, efficiently using limited space.
One of the most popular and creative uses of pallets in garden design and development is the wall-mounted pallet planter, also known as little wall hanging gardens. Constructing a wall-mounted pallet planter is easy and requires minimal upkeep, making it a practical and attractive addition to your outdoor space.
By incorporating vertical planters like wall-mounted pallet planters into your small garden, you can enjoy the benefits of a flourishing garden while saving money and effort on maintenance. These simple and innovative ideas will elevate the aesthetics and functionality of your garden without stretching your budget.
13. Build Pallet Raised Garden Beds
If you're looking for small garden ideas in the UK on a budget, consider a simple and sustainable solution – building sturdy raised wooden garden beds using recycled wooden pallets. With a little effort, you can transform these pallets into a large rectangular box, providing ample depth for your plants to thrive.
To begin, disassemble and carefully reassemble the pallet boards to create the raised bed structure. Once satisfied with the construction, you can fill it with various beautiful plants and shrubs, adding life and charm to your small garden.
By embracing this cost-effective and eco-friendly approach, you create a functional and appealing garden space and contribute to reducing waste and promoting sustainability. With these DIY garden bed ideas, your small garden will flourish with greenery and beauty, making it a delightful and budget-friendly oasis in the UK.
For more information, check this article on how to make pallet furniture.
14. Work Outdoor Lighting into Your Garden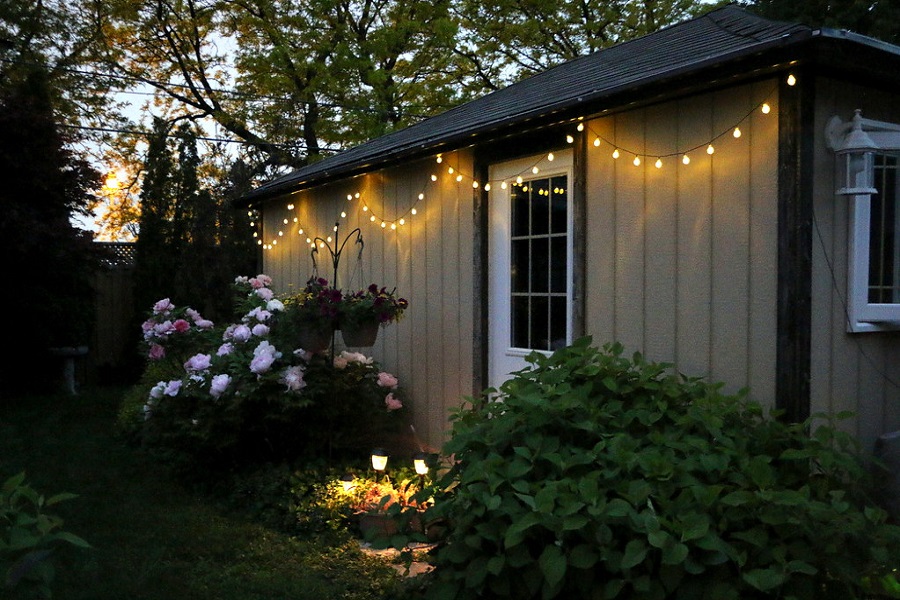 Enhance your small garden with captivating lighting to create a magical ambience for evening enjoyment. On a budget, consider these lighting options:
Solar lights: Cheap and easy, harness the sun's power for enchanting illumination.
Fairy lights: Add a whimsical touch by delicately illuminating trees.
Uplights: Subtly cast a soft glow over patio seating and decorative elements.
Candle lanterns: Flickering candlelight creates allure and romance for summer garden parties.
LED lights: Safe and convenient; adjust the lighting to suit your preferences and transform your garden into an inviting haven after dark.
By strategically combining these lighting options, you can design a picturesque and enchanting small garden that extends your outdoor enjoyment long after sunset. Experiment with different placements and arrangements to discover the perfect balance of illumination and create a captivating space for relaxing, entertaining, and appreciating the beauty of your garden at night.
Shop our range of outdoor lighting here.
15. Pave Your Small Garden Space
Transforming a small garden into a spacious haven is easily achievable with outdoor living room ideas tailored to your space. It doesn't matter how compact your garden is; incorporating garden paving can create a warm and inviting environment, perfect for enjoying quality time.
To seamlessly blend your outdoor area with the comfort and style of your indoor space, furnish it with the same level of cosiness and elegance. A simple solution to achieve this is by adding garden paving, which enhances the aesthetics and provides a functional foundation for your outdoor living room. For an extra touch of comfort and sophistication, place a neutral outdoor rug underfoot, elevating the cosiness factor and creating a welcoming atmosphere for you and your guests.
Final Thoughts
transforming a small garden into a charming and functional oasis is entirely achievable with the right ideas and creativity. By exploring small garden ideas in the UK and embracing budget-friendly solutions, you can maximise the potential of your outdoor space without breaking the bank. There are numerous ways to revitalise your small garden, from clever uses of recycled materials, simple DIY projects, and strategic lighting choices to incorporating vertical planters and outdoor living room concepts.
With careful planning and thoughtful execution, you can create a beautiful, inviting outdoor sanctuary that reflects your style and personality. Whether utilising recycled wooden pallets to build raised garden beds, adding artificial grass for low-maintenance appeal, or selecting the perfect garden path materials, each choice contributes to a harmonious and delightful garden experience.
Remember, a small garden doesn't have to limit your creativity or enjoyment. By infusing your personal touch and incorporating these ingenious ideas, your small garden can genuinely flourish, offering relaxation, entertainment, and natural beauty at your doorstep. So, roll up your sleeves, explore these simple and budget-friendly concepts, and watch your small garden blossom into a captivating retreat that brings joy and inspiration all year round. Happy gardening!
FAQs
Which slabs need the least amount of upkeep?
Porcelain pavers and planks give the appearance of actual stone or wood, but they need far less maintenance. They're tough, long-lasting and absorb less moisture which means they're less prone to dirt, algae and frost. In addition to being durable and easy to clean, they won't fade against the elements.
What is the most affordable paving material?
Indian sandstone is an excellent budget-friendly option for patio paving because of its striking appearance and low cost.
Is it necessary to line hanging planters?
In most cases, two layers of plants, equally placed around the basket's perimeter, are adequate. There should be a good liner around each plant's base and no gaps in the liner so that the compost doesn't leak out. Add extra liner and plant the top of the basket once the sides have been tended to.
Sources
Artificial Glass Direct (n.d.) Artifical Glass Direct. [online] Available at: https://www.artificialgrassdirect.co.uk/ [accessed 21/07/23]

Joe., (2022) How to waterproof a solid wood desk: polyurethane, lacquer, OSMO, wax & oil finishes. Solid Wood Tops. [online] available at: https://solidwoodtops.co.uk/2022/05/water-proof-solid-wood-polyurethane-lacquer-osmo-wax-oil-finishes/ [accessed 21/07/23]
Ryan Jenkins is a professional gardener and has been working in the gardening industry for over 25 years. This has allowed Ryan to accumulate a vast wealth of gardening knowledge which he shares on the Sefton Meadows blog.