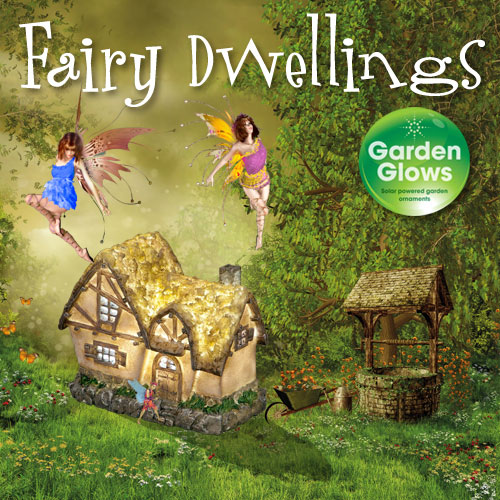 To coincide with the launch of our new Fairy Dwellings collection by Garden Glows, we have decided to spend the afternoon away with the fairies. Well, we usually do anyway.
Beautifully detailed and hand finished, each of the illuminated fairy dwellings has its own individual charm and character. From dusk till dawn, these delightful, solar panelled fairy houses will keep them safe and your garden free from demons.
Whether you believe that fairies are real, or just age-old mythical nonsense, tales about their existence have intrigued us for centuries, so let's take a look at some of the best…
1. Unemployed Mexican catches fairy
Did you hear about that Mexican bricklayer who claimed to have caught a fairy whilst out picking fruit? Well, he did what most good businessmen would do, place it in a container of formaldehyde and started charging people to look at it. Good work!
2. Real? Decide for yourself, says professor
As a resident of the Rossendale, Lancashire, I have first-hand experience of some of the strange things that happen in this valley.  Surely there's none too stranger than these photographs taken by Manchester University lecturer, John Hyatt, last year. Subsequently, he later opened up his own exhibition at a Rawtenstall museum to help showcase his findings. Spooky.
3. Dead fairy found on April 1st
A coincidence or an April Fool's Day hoax? Either way, you couldn't fault the magical effort of sculptor, Dan Baines, who claimed that he stumbled across a dead fairy in Derbyshire. Hardly known for its fairy population, and in spite of it being April Fool's Day, he received over 20,00 visits to his website in one day. He sold the dead fairy for £300.
4. The Cottingley Fairies
Having captured the attention of the world, the series of five photographs taken by cousins, Elsie Wright and Frances Griffiths, is probably the most famous fairy encounter ever. Even Sir Arthur Conan Doyle claimed that the photographs were genuine. Well, they later confessed in 1983 by explaining that they had copied images of dancing girls from a book and stuck hatpins behind them.
5. Finally, this YouTube footage
You'll have to skip to 1:15 to prove all those doubters wrong.
So, are you still a non-believer, or have you been converted? Either way, make sure you click here to check out our full collection of solar panelled Fairy Dwellings by Garden Glows. They're guaranteed to fly out (excuse the pun).