Not only is January a time of hope, optimism and unbroken resolutions, it's also the time of the year when interior style experts throw their hats into the ring and explain what's hot and what's not for the next 12 months.
Cooper, brass and window sheers were all noted as coming to the fore in 2014, but what about 2015? What interior style trends will rise to the top and become the king of the crop?
Well, let's take a closer look at what the experts are saying as we define the top interior style trends for the next 12 months.
1. Industrial Minimalism
A key, stand out trend for the last few years, industrial minimalism is set to continue in 2015. According to Nazmiyal, expect more exposed brickwork, steel furniture and funky, yet functional, furniture. Rougher, but warmer.
2. Earthy Tones
A roaring interior style for many years, it looks set that rich, earthy tones are likely to stretch into 2015. Perfect for the kitchen and dining room. Perhaps a stylish Bio-ethanol fireplace could bridge the gap between old and new during those colder months.
3.  Scandinavian Sophistication
Lifestyle expert, Peta Tomlinson, reveals that wood and woodgrain are likely to find prominence in 2015. More specifically, hard wearing Scandinavian wood finished with intricate accessories and neutral furnishings are set to takeover. It's certainly worth making room for our ever popular collection of solid oak and pine furniture.
4. Gold on The Ceiling
Experienced interior style forecasters, Zillow, believe that retro gold will be making a huge comeback in 2015. It's time to leave behind those silver and stainless-steel days, as bright gold fixtures are here to stay.
5. Wall Murals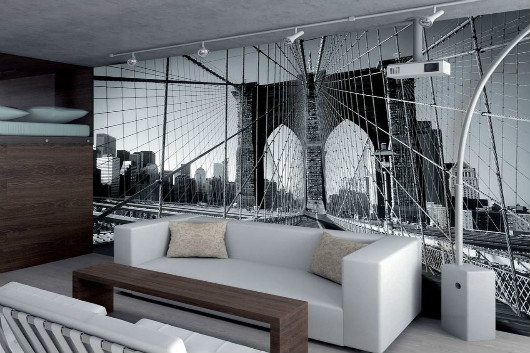 A huge trend that's set to continue in 2015 is wall murals. Feature walls have been dead in the water for sometime now, but photographic imagery is getting bigger. How about having your favourite Instagram style snapshots developed into a stylish wall mural? Pretty cool, eh?
6. Rugs
Believe it or not, rugs are set to feature quite predominately in most fashion forecasts. Well, when we're talking about rugs, we don't just mean normal rugs. How about rugs made from cowhide and look like paintings?
7. Indigo Blue
Another Zillow interior style prognosis for the next 12 months is indigo blue."Pops of indigo blue or deep navy will become a staple in home design this year, as their deep natural hues become extra vibrant against warm earth tones like Marsala."
8. The Pantone colour of 2015: Marsala
Finally, and according to colour experts, Pantone, Marsala is set to be the colour of 2015. Akin to its Sicilian full-bodied namesake, this brooding colour will surely add warmth to your home. Whether you wish to pair it up with another colour, or you're just tempted to flirt with an array of Marsala coloured furnishings, add a splash of boldness to your 2015.
If you're still seeking inspiration, make sure you check out our dedicated Pinterest board right here.