Metal garden furniture is a long-lasting solution to add to any outdoor space. However, over time, metal furniture can become dull and covered in dirt and grime. To keep your metal furniture looking as great as the day you bought it, it is important to clean it on a regular basis.
Our tips on how to clean metal garden furniture will help you to maintain metal pieces in your garden, keeping them looking their best for longer.
Choose high-quality metal garden furniture that will last for years to come.
You Will Need:
Here is what you will need to get your metal garden furniture clean:
A stiff, bristled brush
Cloths
A small brush or old toothbrush to get into gaps
Mild dish soap or similar detergent
Plenty of water
How To Clean Metal Garden Furniture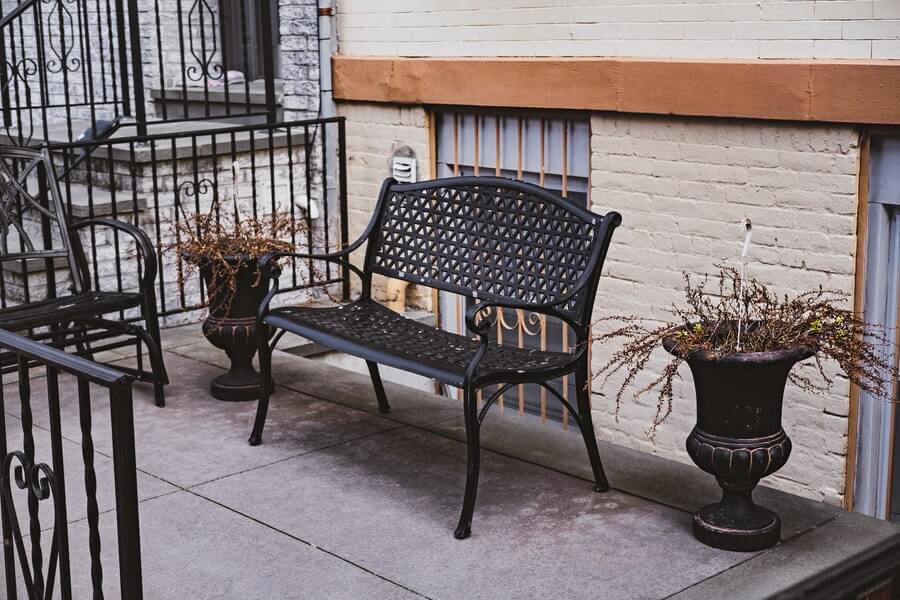 1) Remove surface dust and dirt
Before you get water involved in this cleaning project, you'll want to get rid of any dust, grit, and grime that is on the surface of the furniture. This accumulates easily whilst furniture isn't being used, but it is easy to get rid of.
Take a stiff brush and use it to agitate any dirt off the metal furniture. Use this on an inconspicuous area before using it on visible parts of the furniture so you can be sure it will not scratch the metal.
2) Use a gentle cleanser
Before going in with the 'hard stuff' (if it is necessary), you should use a mild cleanser like dish soap. Dilute it in a bucket of water and use brushes and cloths to give your furniture a good scrub, taking care to get into all the nooks and crannies. An old toothbrush can be useful to get into tight spots. This should be enough if you regularly maintain your furniture.
3) Soak the furniture
If you are really struggling to get the dirt off, soak your furniture in water for a few hours and come back to it. This should be enough to remove any stuck-on grime.
4) Leave to dry
The last step in how to clean metal garden furniture is to simply leave it to dry. If it hasn't been affected by rust, use a rust-prevention spray to keep your furniture in prime condition. Make sure your furniture is bone dry if you are planning on putting it into storage and use a tight-fitting cover to protect it from any damage.
How To Clean Metal Garden Furniture FAQs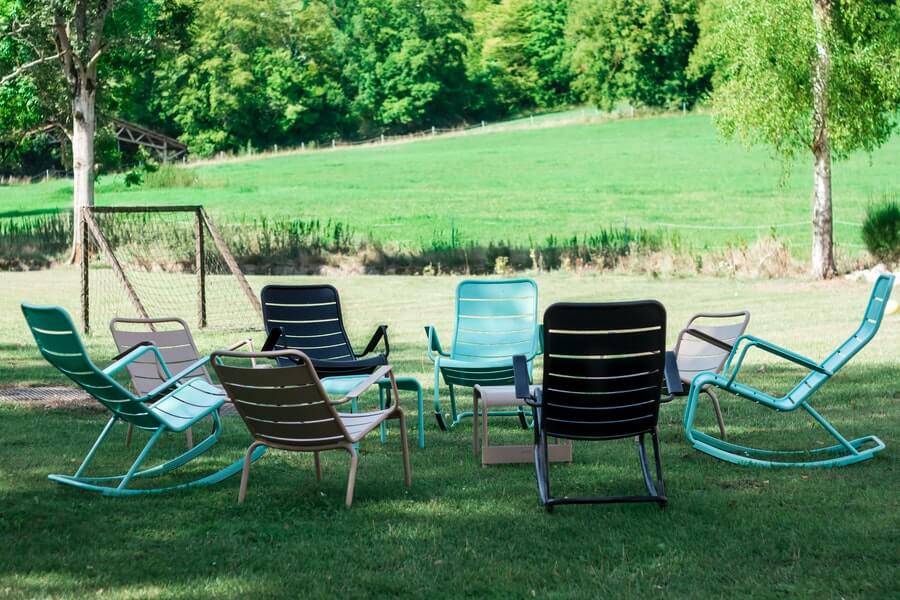 How do you remove algae from metal garden furniture?
If you leave your furniture in a shady, moist place, it might grow algae. This can make your furniture slimy and can cause it to decay or become damaged[i].
There are a few products you can use to remove algae, including warm soapy water, vinegar, baking soda, and in severe cases, bleach can be used.
How do you remove rust from metal garden furniture?
Rusted garden furniture looks unsightly, but it can usually be remedied if you tackle it quickly. Use a mixture of white vinegar and salt and leave it to soak on the rusted spots. After 15 or so minutes, gently scrub it away. This should remove any rust. There are specialist products available to get rid of rust, too.
How do you clean oxidized metal patio furniture?
Oxidization occurs on aluminium furniture. It is essentially a natural process of corrosion that happens when the furniture is left outside. You can prevent this from happening by regularly cleaning the furniture and waxing it. If it is too late, clean the furniture well, and use 1 part white vinegar, 1 part water to remove any light oxidization. For harsher oxidization, you can use an automotive rubbing compound that is designed for aluminium[ii], or purchase a specialist product for aluminium garden furniture.
How do you rejuvenate your metal garden furniture?
If you've gone through how to clean metal garden furniture but it's still looking a bit lacklustre, you can bring it back to its former glory in a couple of ways. You could either sand any damaged paint off it and give it a fresh coat of specialist metal paint, or if it is unpainted, use a metal polish product to restore its shine.
Unsure if metal garden furniture is right for you? Take a look at our comprehensive Buyer's Guide
Sources
---
[i] https://www.befurnituresales.co.uk/how-to-clean-green-algae-off-garden-furniture/
[ii] https://www.hunker.com/13404166/how-to-get-oxidation-off-coated-aluminum-furniture
Ryan Jenkins is a professional gardener and has been working in the gardening industry for over 25 years. This has allowed Ryan to accumulate a vast wealth of gardening knowledge which he shares on the Sefton Meadows blog.