And the best varieties of bedding plant
If you want to know when to plant bedding plants, then the best time to do so in the UK is May onwards, when the risk of frost is usually completely over. 
Despite bedding plants appearing in gardening centres and flower nurseries very early in the year (February – March onwards), you should hold back from planting them this early on. If frost occurs after you've planted your bedding plants, it can quickly damage, or even kill, them by causing the water within the plants to freeze and expand. This damages the plant tissues.
What are bedding plants?
A bedding plant is a type of plant that isn't evergreen that only lasts for a year. When they have finished flowering, they don't come back the next year. They should be removed and discarded.
People like bedding plants because they give them the flexibility to switch plants year-on-year, rather than committing to one plant variety for a longer period.
If you want plants that you don't have to replace each year, you should look for perennial plants. These are plants which last for more than two years – perfect if you want a lower-maintenance garden.
Best bedding plant varieties
Bedding plants come into full bloom in the summer, so are the perfect way to add an abundance of colour to your garden space.
Here are some of our favourite bedding plant varieties at Sefton Meadows garden centre:
Begonia
Geranium
Lobelia
Petunia
Busy Lizzies
Begonia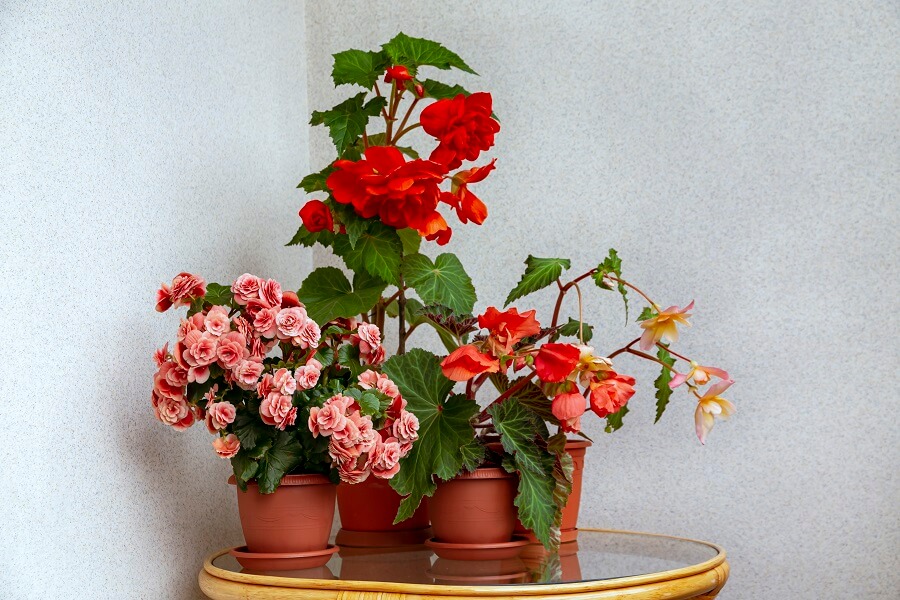 Begonias are a type of flowering plant that come in a wide variety of colours and sizes. They are native to tropical and subtropical regions all over the world and are popular as bedding plants.
They are around 6 – 12 inches in size, and common colours are orange, white, pink, and yellow. They are great for containers and don't require much maintenance, so are perfect for beginners.
Geranium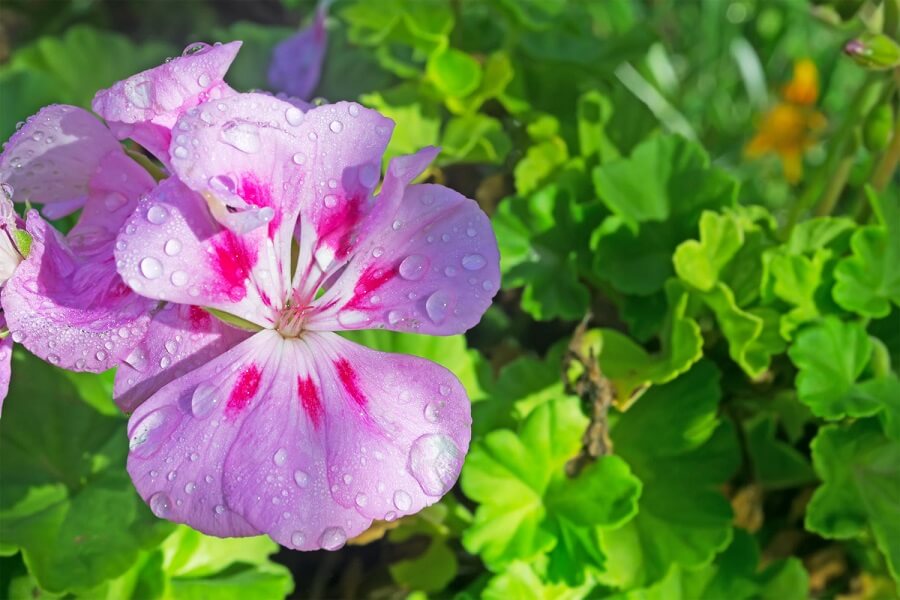 An extremely tolerant flower, Geraniums are one of the most versatile and popular bedding plants out there. They need to be in direct sunlight to bloom, and they come in a wide range of colours, including delicate pinks and rich crimson.
They are low maintenance and can tolerate a drought, making them an easy grower for drier parts of the UK.
Lobelia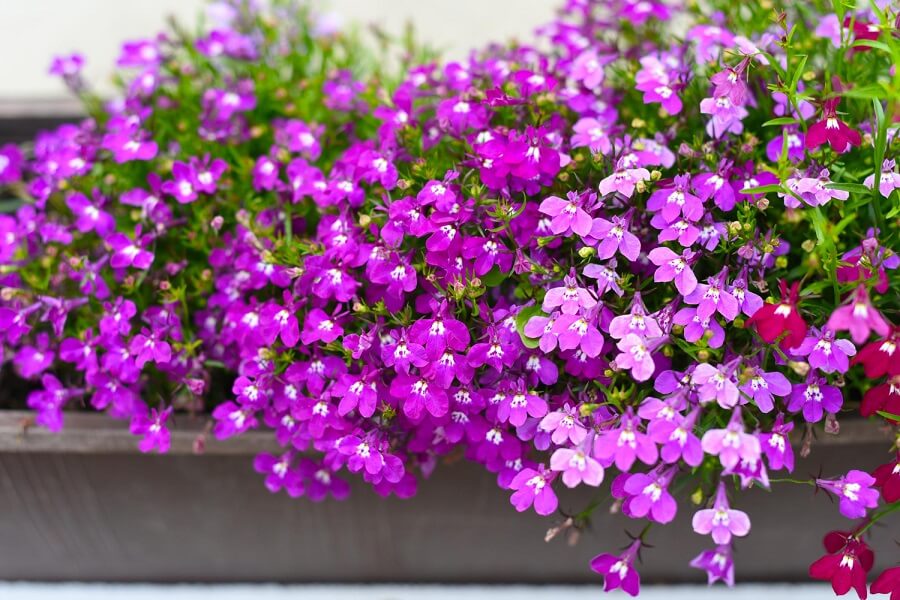 The Lobelia is a beautiful bedding flower that is perfect for any garden. It is easy to grow and care for and is a great choice for those who are looking for a flower that is drought tolerant. The Lobelia is a self-seeding plant, so keep an eye on it to make sure it doesn't spread beyond its flower bed or container.
They are available in a variety of colours, including white, blue, lilac, and red.
Petunia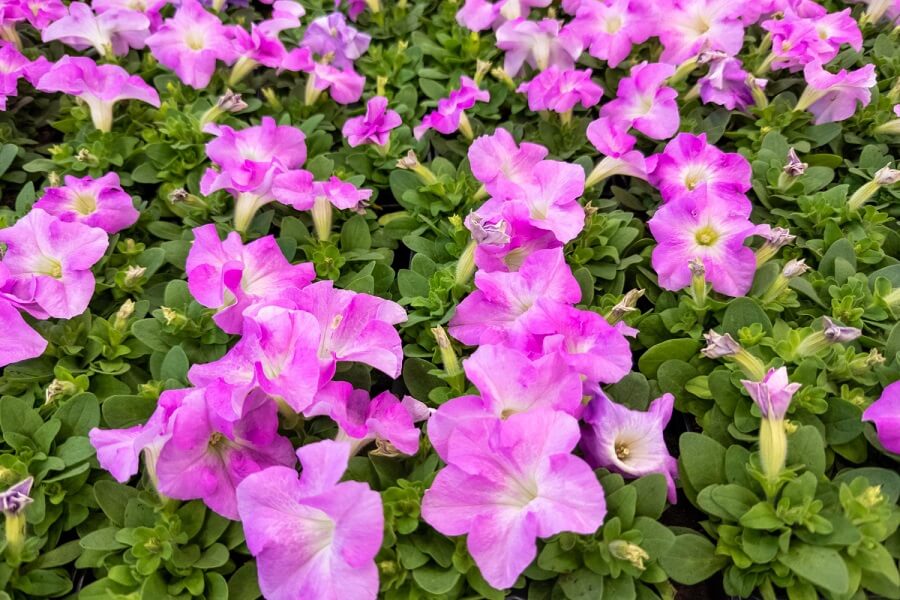 Petunias are a pretty, dainty flower that are relatively easy to care for and grow. They bloom throughout the summer and make an excellent addition to any flower bed. Petunias are a flower of many colours, including pink, white, yellow, blue, red, and purple.
Busy Lizzies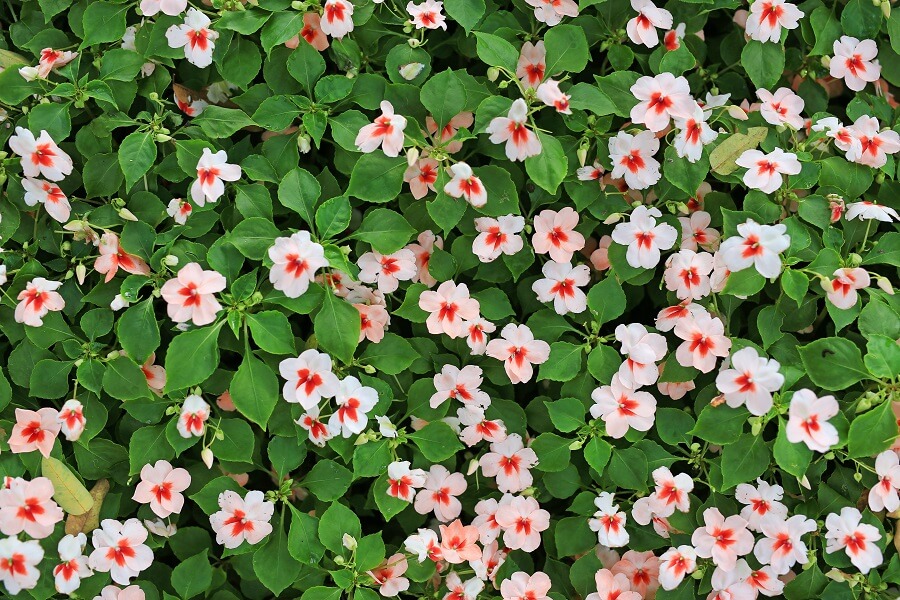 A fun name for a fun flower, Busy Lizzies (also known as Impatiens) bloom throughout the summer and autumn and are available in orange, pink, red, purple, and soft, pastel shades. These flowers are quite hardy and will do well in both sun and shade. As well as looking stunning, Busy Lizzies are edible, and make a lovely garnish for cakes.
Top tips for planting bedding plants
When it comes to planting bedding plants, there is little room for error. Most varieties are tolerant to different weather conditions and will get on well wherever they are planted. But if you're just starting out, here are a few pointers.
Pinch them out – Pinching out involves pruning young plants to encourage them to branch out. The goal of this is to increase the number of flowers on the plant. This will also encourage a stronger plant.
Deadhead – throughout the growing season, keep an eye on your bedding plants and deadhead any flowers which have had their time. All this involves is picking off old flower heads, allowing the plants energy to be expended in other areas.
Think about location – despite some varieties being quite hardy, you need to consider location carefully. Keep varieties that rely on light in sunny spots and tuck away shade-loving bedding plants to stop them from wilting.
Choose your bedding plants carefully!
Once your bedding plants are in, you're stuck with them all year – so choose carefully! We hope you've found the answer to the question, 'when to plant bedding plants', and are ready to get your hands dirty in the garden.
Sources
https://www.rhs.org.uk/plants/begonias/outdoors
https://www.gardeningknowhow.com/ornamental/flowers/geranium/geranium-care.htm
https://www.almanac.com/plant/petunias
Ryan Jenkins is a professional gardener and has been working in the gardening industry for over 25 years. This has allowed Ryan to accumulate a vast wealth of gardening knowledge which he shares on the Sefton Meadows blog.