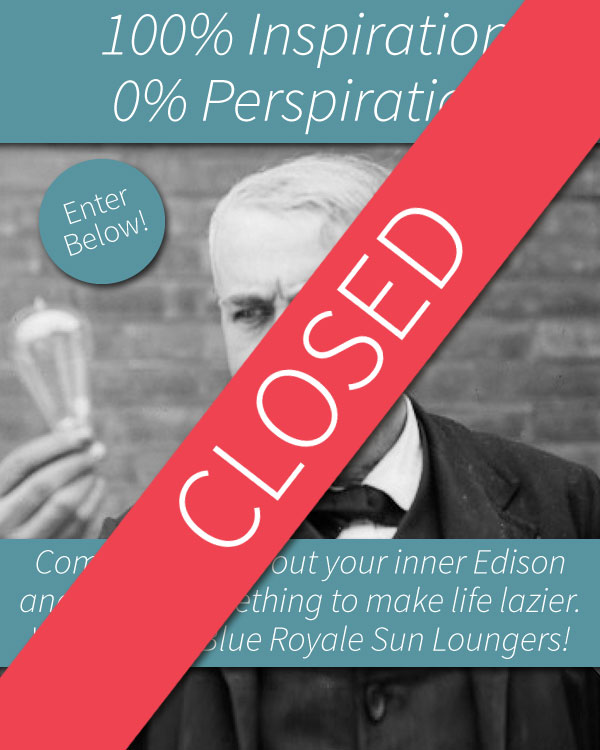 Thanks to everyone that participated in our latest competition. This was our favourite by far and the inventions you came up with were brilliant! The winner of the competition was Emma Furniss. Congratulations, Emma! Your invention was so unique, simple and utterly hilarious, we couldn't let it slip by unnoticed. We hope you enjoy your 2 Royal Blue Royale Sun Loungers. The winning entry is below…
Fed up of the effort needed for an all over tan? Hate turning yourself over onto a sweaty, warm towel? Find it laborious trying to get the side of your body tanned? Well, now you don't need to move a muscle once you are securely fastened to the 'Sunspit'. Just get a friend to help clip your limbs to the sturdy frame and fall asleep as the contraption gently turns you for an enviable, all over tan. The only thing you'll need to move is your eyelids.
 Our favourite part is the detailed diagram for a clearer view on how it works. Bravo Emma!
However, we have further gifts to give, as we promised to give a ten percent discount to the top ten entries on their next order with us! Emma is one of the ten. The nine runners-up are below (in no particular order).
Dog bark powered roller boots for us postmen, the more the dogs bark the quicker the wheels turn. My job would be done in half an hour!

– John Mills
I'd invent a device that connects to my bad and my alarm clock. When the alarm goes off my bed would automatically go in to sitting up right mode so it's easier for me to get out of bed.

– Diane Wareing
A window washer. You attach it to the window by some kind of magnet and it releases window cleaner then swirls around and around until your windows are sparkling clean. A bit like those vacuum cleaners and lawn-mowers that have already been invented. Meanwhile you can sit with your feet up and admire your garden.

– Lyla Horley
A tube that looks like a pritt stick but it's filled with butter and you just have to wipe it over your toast.

– Mellanie Forster
A cubical with a computer keyboard on the outside. You just fire it up in the mornings, choose your hairstyle and clothes, hit enter, then walk in. You come out washed, teeth clean, dressed and not a hair out of place…. Perfect!

– Amanda Dunn
I would love a handheld gizmo into which you could type a location/post code/zip code and then just press the button and you would be there! Wow, no more crowded buses and trains, no more airport security, no more fighting to get on the Underground. How wonderful would that be?!!!

– Anthea Holloway
A motorised garden lounger , so I could follow the sun around the garden, automatically reclining when I got to the ideal spot, without any effort.

– Caroline Davey
My invention for lazy people is a 'BlinkOMatic' – this handy device is in the form of a contact lens and once in place the user can use all of his/her IT gadgets (PC's, tablets, smartphones etc) by simply blinking… I can't give anymore away just  yet…think I might need to patent this one! 😉

– Rebecca Evans
You know how you get the fridge freezers that dispense drinking water and ice cubes?
How about a fridge freezer that dispenses soft whipped ice cream in an instant! I hate trying to scoop ice cream straight from the freezer.

– Margaret McLaughlin
Next time it could be you that is selected as the winner of one of our fantastic competitions. So, make sure you create an account with us to be amongst the first to hear about the next one.