Gardens come in all kinds of shapes and sizes. Some are large, and others are small. They all serve a different function, and some may prefer to keep their garden low-maintenance. If you are looking to keep your front garden low maintenance, then you have come to the right place, and this article will show you the 10 best low maintenance garden ideas that are an absolutely must for keeping your garden tidy and maintainable all year round.
Small low maintenance garden ideas
A front garden can be just as much of a centrepiece as your back garden and will be one of the first things people will see when they walk past or enter your home. How you design your low-maintenance front garden will always create a new impression to people, as well as a place that your wheelie bins or car may go too.
From garden ornaments to hanging baskets, there are plenty of low maintenance garden ideas you can implement into your garden and keep it tidy, and you can choose any of the following options to make it the way you want:
1.
Hanging baskets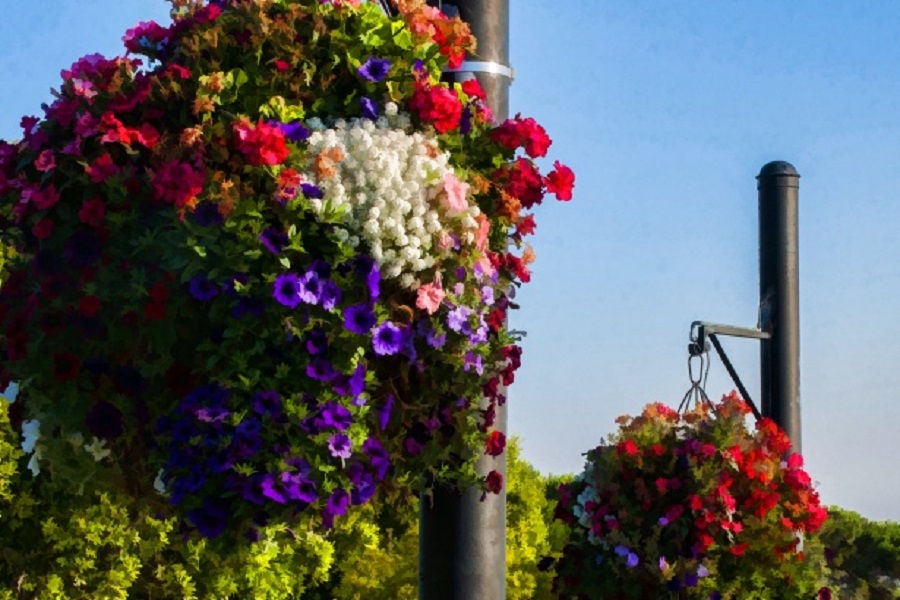 One brilliant and affordable low maintenance garden idea is by using hanging baskets for your flowers and plants. These are particularly handy if you are looking to save garden space and want to avoid the hassle of looking after large plants.
Additionally, if the vertical areas of your front garden are lacking, then hanging baskets are highly recommended to fill up this space and add some colour to them.
Certain plants that you can add to your hanging baskets in your low maintenance garden includes:
Petunia
Begonias
Pansy
Fuchsia
Calibrachoa
Crane's-bill
Lobelia
Verbena
Lantana
2.
Creating shade and privacy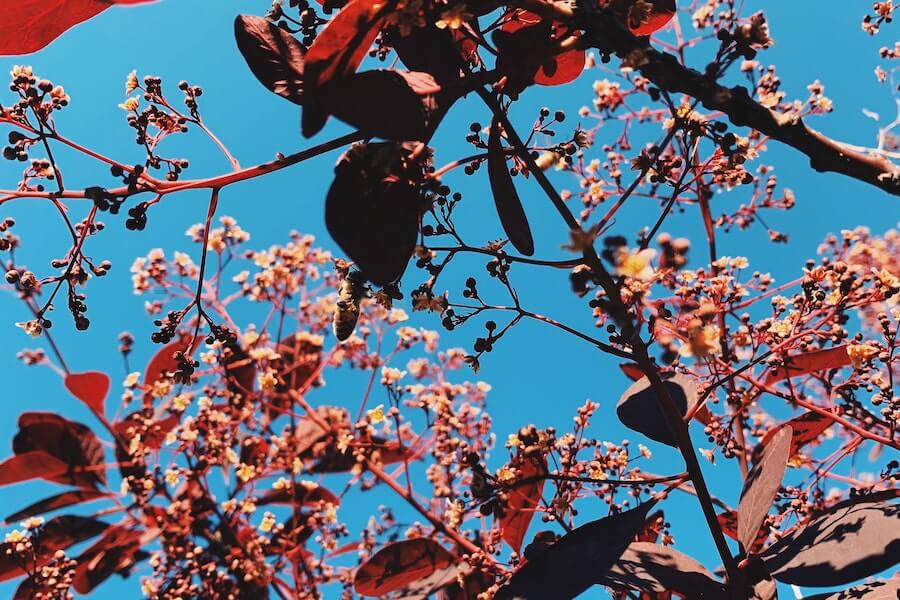 Another great low maintenance garden idea is implementing small trees and shrubbery, which will also assist in making your garden and home more private.
This will allow for a greater benefit if you have animals or other plants in your front garden, which will give them more shade, and is particularly useful in the summer. As well as this, trees and shrubbery will make your garden look prettier, especially with plants such as service-berry or redwood. There are some truly amazing trees for garden privacy that we recommend too. You could even add hammocks and swings alongside your low maintenance garden trees and shrubbery to fully appreciate the privacy that they grant you to have fun and relax in.
3.
Add window boxes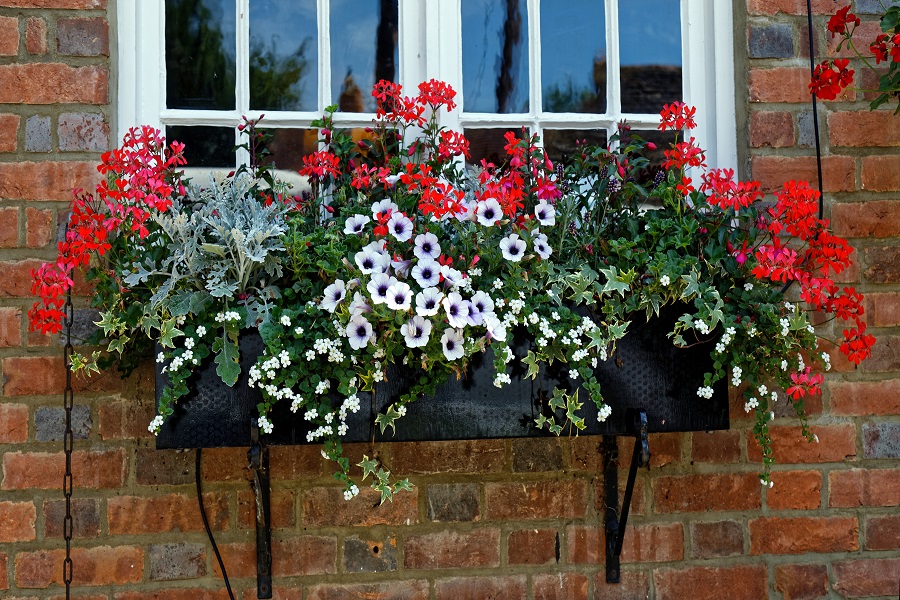 Decorate your windows with a colourful window box. Like hanging baskets, window boxes are useful for those who do not want the hassle of looking after plants grown from the ground or for people who do not have a front garden.
Window boxes are fantastic as a low maintenance garden idea, and so long as they are positioned in a safe and secure place, the most you will need to worry about with them is making sure the plants get enough water and are replaced if you have any dead plants. Window boxes are perfect for decoration throughout all seasons, especially for winter plants.
4.
Add climbing plants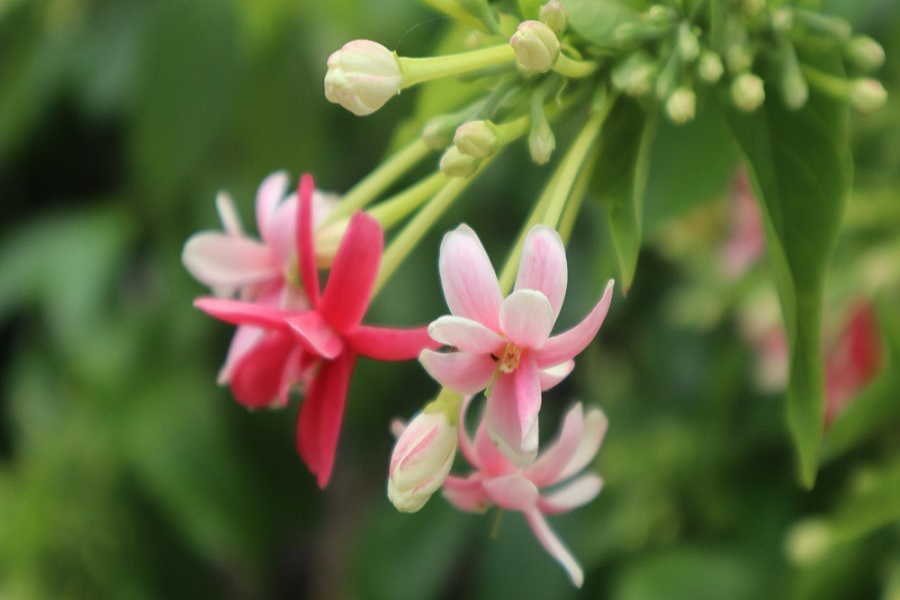 Certain plants that are vigorous climbers, such as evergreen hydrangea, honeysuckle, and jasmine, so including at least one of these to grow around the exterior of your home will look amazing throughout the year.
If you have a terrace or perimeter wall around your front garden, then adding a climbing plant will help give it more decoration and not much attention will be needed for them to grow in your garden.
5.
Paving, planting, and pebbles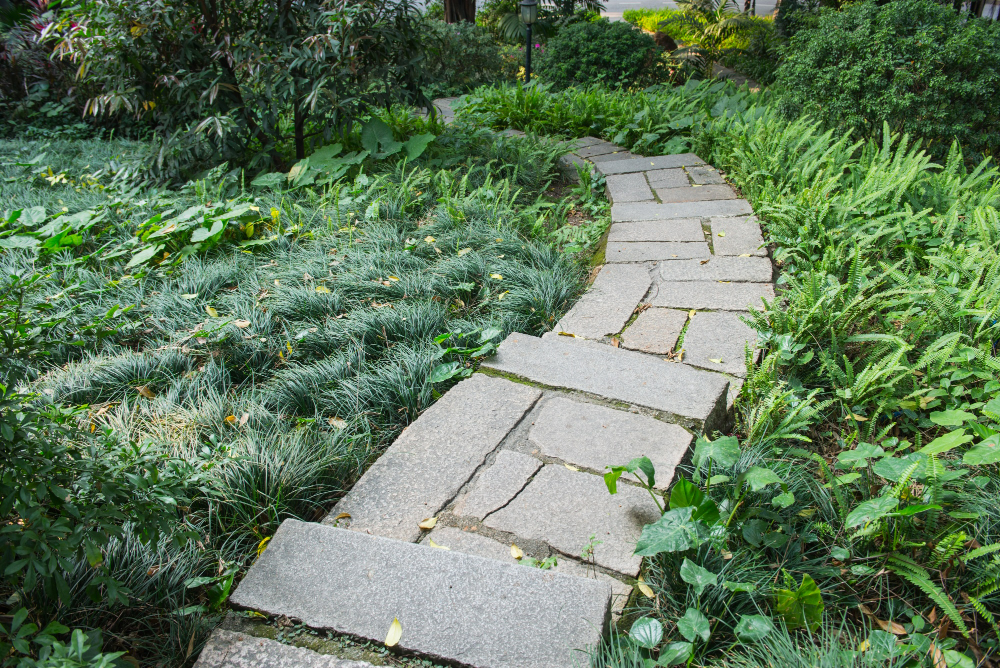 Suitable for large and small gardens, paving, planting, and pebbles are becoming increasingly popular for numerous households. People are ditching lawns for easy-to-maintain paving because it helps to add balance and mass to the rest of your home.
You can be very creative with paving or pebbles around your front garden and can choose the way you want it to face, the angles, and the direction. Some like them in straight lines, while others prefer for them to divert off the path slightly to give guests a bit more of a tour.
A low-maintenance garden does not get any better than with paving, plants, and pebbles.
6.
Picket fencing
Keep your low-maintenance garden tidy and organised with picket fencing, which is great for keeping out pests and ensuring your small plants grow tidy and vertically. Picket fences also open up your small front garden, too, rather than a big, boring fence panel, to allow your garden more room to breathe and will let in more light.
Additionally, it allows for more support for the climbing plants that you will add as well.
If picket fencing is not quite your thing, then adding trellis to an existing fence is a great alternative option as a low maintenance garden idea too.
7.
Floral archway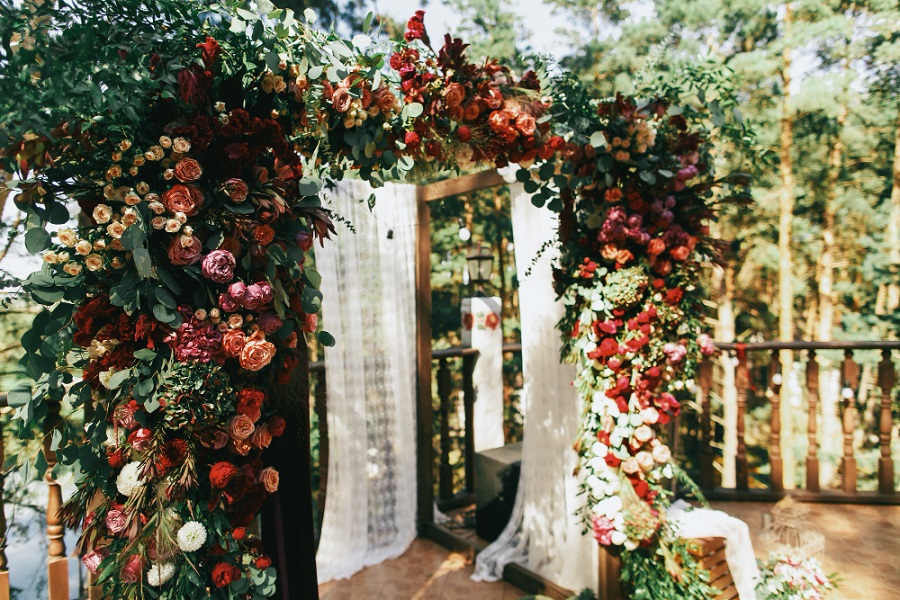 Create more of a floral aesthetic by adding a garden archway to your low-maintenance garden ideas. These are great for adding climbing plants onto them as well, and you can therefore make your foliage grow up and all over your garden without necessarily having to plant them. We offer lots of arches, arbours, and pergolas perfect for adding plants and foliage alongside as well.
Of course, before you implement this, check that you have planning permission, especially with archways being a large structure. Alternatively, you can let your climbing plants grow along a wall or trellis around your home instead.
Find out more about garden planning permission here.
8.
Sculpture statement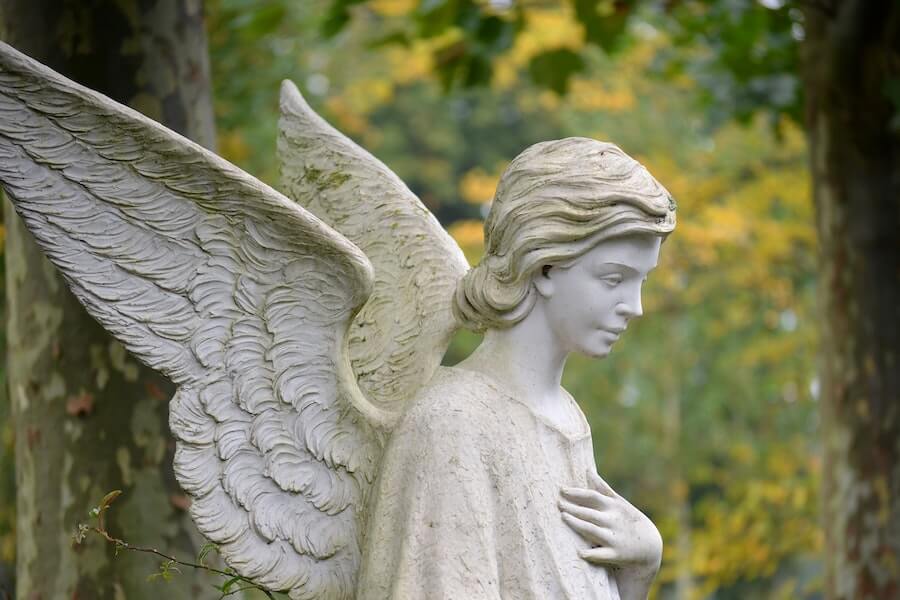 Plants are not necessarily needed to decorate your garden. Instead, opt for the low-maintenance option, like garden sculptures, which will undoubtedly add some architecture to the visual spectacle of your garden.
Choose from marble and steel sculptures to make your garden look like it was frozen in time from the Greek philosopher period, and many passers-by will be amused by the display you have chosen for your front garden. Choose from our vast selection of outdoor garden lighting and ornaments for these sculptures to stand out amongst your low maintenance garden ideas.
You may be interested to know that more people are being creative with their garden sculptures, which has created a movement known as living sculptures which are made from plants! Read more here to find out how this gardening trend has shifted gardening in the 21st century.
9. Add Wooden
Benches

for Comfort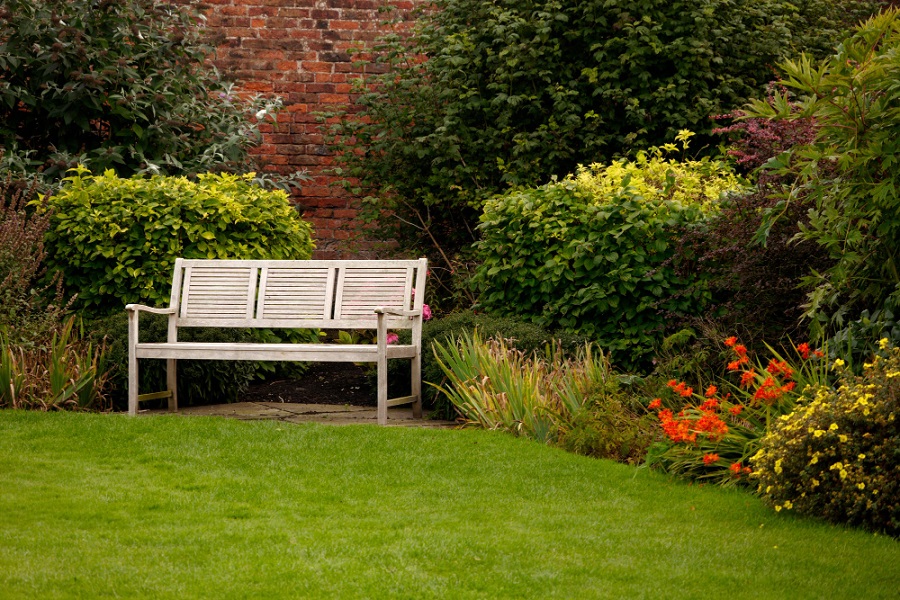 You cannot go wrong with garden benches. No matter whether they are added to the front or back of your garden, it allows for an excellent space to watch what is going on in the world when the weather is good.
Sit down and enjoy a drink, a book, or even some photographic energy on your phone. Why not add some extra comfort with a cushion or stylize your bench with a carving design too?
For those seeking something a little more unique than traditional garden benches, a plastic outdoor garden set or even a rattan garden swing can offer a perfect spot to relax and watch the world go by in your garden, providing a touch of elegance and comfort to your outdoor haven.
Passers-by will be intrigued by whatever you do to your garden bench to make it an integral part of your garden thanks to the advice laid out about low maintenance garden ideas.
10.
Lighting techniques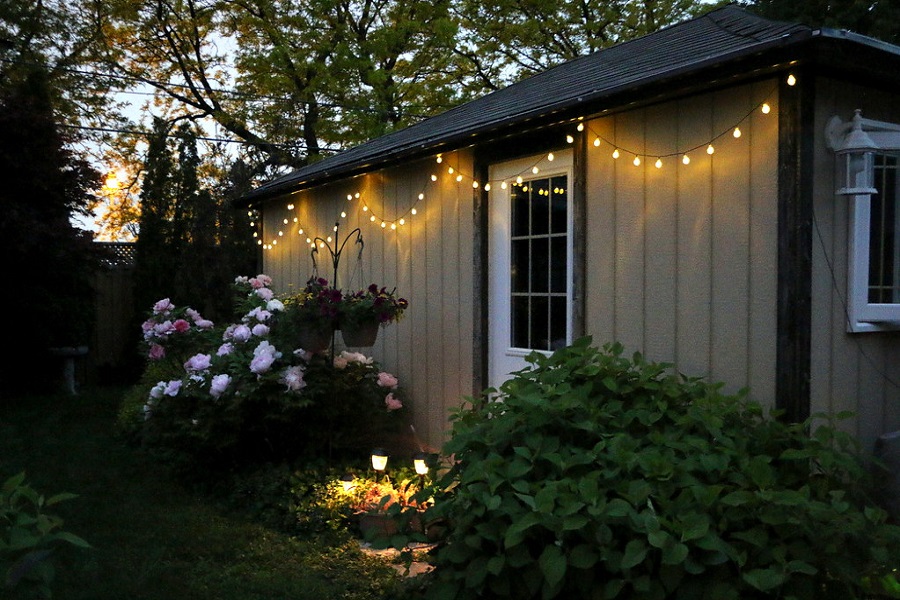 Lastly, you cannot forget about lights. Lighting is essential for low maintenance garden ideas, and will create a wide variety of moods and aesthetics, and you can choose whether you want big or small ones. Perhaps you want to decorate your small picket fence with fairy lights or simply have one or two lights on your porch to light up your guests when you welcome them into your home.
Whichever choice you make, lighting is perfect for making your garden lit up beautifully in a low-maintenance way. They will also boost the ambiance and practicality of your garden too, and even if you have a small shed already built on your front garden, you can add lights to this too.
Stylish low maintenance garden ideas aplenty!
Never underestimate the quality and control that you can bring to your low-maintenance garden. With all these options listed and more to choose from, there is always something new and different that you can bring to the table, and it will help set the stage for when guests come to visit your home.
FAQs
What is a low maintenance garden?
A low maintenance garden is a garden that requires minimal upkeep. This could include regular watering, pruning, or weeding. Low maintenance gardens usually have hardy plants incorporated into them to withstand different weather conditions, as well as lighting, sculptures, and other techniques that are easier to look after in a garden than plants.
How to design a low maintenance garden?
To design a low maintenence garden, you should include hardscaping elements that do not require much maintenance, such as stone paths and raised bedding. This will help minimise having to look after your plants as often. Add in mulch and ground covers to prevent the risk of weeds, and retain moisture.
Can I reduce watering in my garden?
To help save costs, it is possible to reduce having to water plants in your garden. Add in plants that do not need watering often and place them in well-drained soil. Drip irrigation and soaker hoses will aid in delivering water straight to the plants and therefore reduce the risk of water wastage.
Sources
Garden Affairs. (n.d.). Planning – How We Work. Retrieved from: https://www.gardenaffairs.co.uk/how-we-work/planning/
Chapman, K. (2017, August 3). Living Sculptures Made of Plants. Taunton Press, Inc. Fine Gardening. [Accessed 03/05/23] Retrieved from https://www.finegardening.com/article/living-sculptures-made-of-plants
Ryan Jenkins is a professional gardener and has been working in the gardening industry for over 25 years. This has allowed Ryan to accumulate a vast wealth of gardening knowledge which he shares on the Sefton Meadows blog.